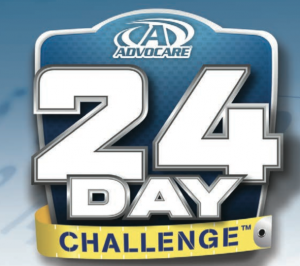 Remember last week when I posted about my dilemma with the scale?  I'm happy to report that I'm over that!  I am now down 4.8 pounds and I'm starting to feel it in my clothes!  I've still got a long way to go, but it's nice to know I'm on my way! My struggle this week is that I got hit with a sinus infection.  I had resolved last week that I was going to start exercising more and it just didn't happen because I've been getting home from work and crashing on the couch because I'm so wiped out.  My hope is that I will be better and ready to start next week!
What's working on the Advocare 24 Day Challenge
A lot of things that I thought would be HARD to give up (in particular cheese and chocolate) have not been as hard to give up as I thought.  I actually don't even miss them that much anymore.  This weekend will be a true test!  Tomorrow I'm heading to a blogging event with a chocolate fountain and cheese from Tillamook Cheese, which is seriously the best cheese ever.  I will be at a blogging conference for two full days and meals are included.  A big stressor for me has been whether or not I will actually be able to eat what they're serving.  I finally decided to come prepared and just pack my own water, food, and snack so I'm safe!
I've been loving the Waterlogged app (it's free) to help me track my water intake and the free My Fitness Pal app!  If you are trying to lose weight, regardless of what "plan" you're trying, I totally recommend both of these apps!  They're free and awesome!
If you're thinking about trying the Advocare 24 Day Challenge and you're wondering what you can actually eat, you can learn more about it and check out my menu plans so far using the links below:
Were you able to meet your weight loss goals this week?