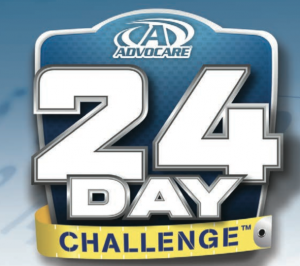 I started the Advocare 24 Day Challenge on September 3rd.  The first week was much easier than I thought, even though my birthday, lunches with friends, and a blogging event all fell in there.  I wish I could say that the past week had been as easy as that first one, but it was HARD!  The good thing is that I learned some valuable lessons!!
I attended a conference for 3 days this last week and I failed to plan.  I had honestly planned to take my own food and to make sure I had plenty of water, but life got in the way.  Consequently, I spent 3 days with not enough water and limited food options (and most of them not on the plan at all).  I tried to do the best that I could, but definitely learned the importance of being prepared and planning ahead!
What's working on the Advocare 24 Day Challenge
I have lost 6 pounds so far.  I had honestly hoped and planned to lose more, but I know that 6 pounds lost is better than nothing lost and definitely better than gaining extra weight.  That is 6 pounds I don't plan to "see" ever again.  The difference I'm REALLY noticing is in inches.  As of last week, I had lost 5 inches total.  I'm feeling it in my clothes, too!
Last week when I wasn't able to stick with the plan as closely as I would have liked, I honestly felt awful. Not awful because I hadn't been able to do what I had planned to do (although that definitely was a factor) but I didn't have the same energy that I have had, probably because I wasn't drinking enough water.  I have also been really careful about "clean eating" and not eating things with sodium (I have become a HUGE fan of Mrs. Dash products) and I was amazed that I could "taste" the salt in things that I had never noticed before.
I've got two days of the Challenge left, but it's not the end of my time with Advocare!  I'll be sharing more about my experiences (and hopefully have more weight loss to report) next week!
If you're thinking about trying the Advocare 24 Day Challenge and you're wondering what you can actually eat, you can learn more about it and check out my menu plans so far using the links below:
Were you able to meet your weight loss goals this week?