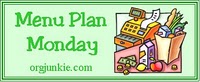 Over the holidays, my menu planning efforts fell apart.  I'm trying to get back on track, but last week I didn't have a written menu plan and as a result, I hadn't prepared by buying all the groceries I needed ahead of time.  This week is a crazy busy week for our family, so I knew that if I didn't have a plan with tried and true (not to mention easy) recipes, I would fail again.  Here's my plan for menu planning success hopefully this week!
If you're new to menu planning or would like tips for getting started, check out this post here–> Tips for menu planning
You can also view hundreds of meal plans each week at Orgjunkie.com
See my menu and recipes for the week below: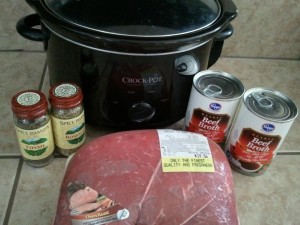 SUNDAY:  French dip sandwiches (slow cooker) – This is a super easy, tried and true recipe that my family LOVES!!!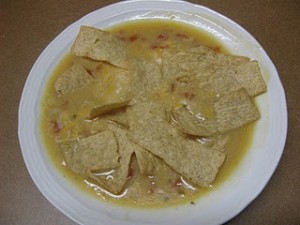 MONDAY:  Creamy Chicken tortilla soup – When I need a quick and easy meal, this is my "go to" recipe and as an added bonus, my entire family loves it!  It's dump and go and you can't go wrong with it!
TUESDAY: Melt in Your Mouth Meatloaf (slow cooker)- This is another family favorite that is super easy to make!  I've always made it with ground turkey, and no one in my family knows the difference!
WEDNESDAY:  Baked Chicken  – Since it's Weight Loss Wednesday, this is a Weight Watchers recipe and it's only 3 points per serving!  I'm going to try making it in my new Instant Pot, which should cook it in just 10 minutes!!
THURSDAY:  Stacked green enchiladas – This is a modified version of a recipe my dad makes
Ingredients:
1 can green enchilada sauce
1 can cream of chicken soup (I use 98% FF)
1 can Rotel (drained)
3-4 chicken breasts
corn tortillas (one dozen)
monterrey jack cheese
I place the chicken breasts, enchilada sauce, cream of chicken soup, and Rotel in the crockpot on low all day. When I get home, I shred the chicken and add it back to the mixture. Then, you can either do stacked enchiladas (pour some of the mixture on a corn tortilla/add cheese and repeat for as many layers as you would like) or do rolled enchiladas (place some of the mixture in the corn tortilla, roll, and place in a pan….repeat 9 times…then, pour the remaining sauce mixture over the top and top with cheese and bake at 350 for 20-30 minutes).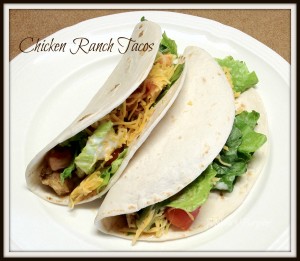 FRIDAY:  Chicken Ranch Tacos (slow cooker) – Our family fell in love with this recipe the first time we tried it.  It's quick and easy to throw together, too!
SATURDAY:  Rice Meatballs – This is a recipe from my mother in law and it's always a hit when we make it.  I'm going to experiment with making this one in my Instant Pot, too!
Ingredients:
1 cup uncooked minute rice
1 lb ground beef (I use 93/7)
1 egg, slightly beaten
2 t. grated onion
2 t. salt (I cut this in half)
1/8 t marjoram
dash pepper
2 1/2 cups tomato juice (or two 8 oz cans tomato sauce mixed with 1/2 cup water)
1/2 t sugar
Combine rice and all other ingredients except tomato juice and sugar. Form balls and arrange in skillet. Pour tomato juice & sugar over meatballs. Bring to boil. Reduce heat & simmer uncovered 15 minutes.
See my menu plans from previous weeks here–> Menu Planning Monday
Looking for more quick fix menu ideas? Sign up for Ready, Set, Eat by clicking on the image below! It's completely free and you'll get recipe ideas delivered to you by e-mail!
*This post may contain affiliate links. Please refer to my disclosure policy for more information.