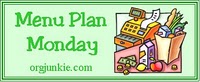 Over the holidays, my menu planning efforts fell apart.  I'm still trying to get back on track with menu planning!  Last week, we had something almost every night, and I wasn't as prepared as I should have been in the mornings, which threw off cooking some evenings!  .  Here's my plan for menu planning success (hopefully) this week!
If you're new to menu planning or would like tips for getting started, check out this post here–> Tips for menu planning
You can also view hundreds of meal plans each week at Orgjunkie.com
See my menu and recipes for the week below:
SUNDAY:  Easy Pepper Steak  – This is a recipe that I got from my mother in law shortly after my husband and I were married.  It's a family favorite and super easy to make!
MONDAY:  Slow Cooker Lasagne – I've had this on my "to try" list for awhile, and since I'm off work today, I figured it would be a good day to try it!
TUESDAY:  Stacked green enchiladas – This is a modified version of a recipe my dad makes
Ingredients:
1 can green enchilada sauce
1 can cream of chicken soup (I use 98% FF)
1 can Rotel (drained)
3-4 chicken breasts
corn tortillas (one dozen)
monterrey jack cheese
I place the chicken breasts, enchilada sauce, cream of chicken soup, and Rotel in the crockpot on low all day. When I get home, I shred the chicken and add it back to the mixture. Then, you can either do stacked enchiladas (pour some of the mixture on a corn tortilla/add cheese and repeat for as many layers as you would like) or do rolled enchiladas (place some of the mixture in the corn tortilla, roll, and place in a pan….repeat 9 times…then, pour the remaining sauce mixture over the top and top with cheese and bake at 350 for 20-30 minutes).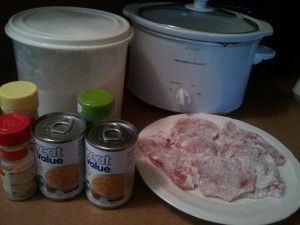 WEDNESDAY:  Slow Cooker Chicken Lickin' Good Pork Chops – Another super easy recipe that my family loves!
THURSDAY:   Not Julia Child's Beef Bourguignon – I'll be using my new Instant Pot for this one!  I can't wait to see how it turns out!! 
FRIDAY:   Sweet potato foil pack tacos ~ I found this recipe on Marci's blog.  My family was skeptical the first time we tried these, but once they actually tasted them, they were a hit, even with my kids! (and that's not an easy feat!)
Ingredients:
1/2 lb ground beef or turkey
2-3 T taco seasoning
1/2 cup tomato sauce (4 ounces)
1 can black, kidney, or pinto beans, drained (I used black)
2-3 medium sweet potatoes, peeled and cut into 1/2-inch cubes (about 6 cups total)
2 T butter
salt
1 1/2 cups chopped fresh spinach
1 1/2 cups shredded cheddar cheese
sour cream, salsa, and/or guacamole for garnish
6 12-inch long pieces of aluminum foil
Directions:
Preheat oven to 425 degrees F.
Brown ground meat in a skillet over medium-high heat. Stir in taco seasoning, tomato sauce, and beans. Set aside.
To assemble packets, spray the foil with non-stick spray. Place 1 cup sweet potato cubes in the center of each piece. Top with a small piece of butter (about 1 tsp) and a pinch or two of salt.
Sprinkle some chopped spinach over the sweet potatoes, followed by about 1/3 cup of taco meat and sprinkle of cheese. Fold the sides in, then bring the top and bottom ends of the foil together in the center and fold, sealing the packet.
Repeat with remaining ingredients, placing the packets on a rimmed cookie sheet. Bake for 25-30 minutes until the sweet potatoes are tender.
Serve with sour cream, salsa, and/or guacamole.  Makes 6 servings.
SATURDAY:   Sweet & Sour chicken with fried rice – I found this one on Pinterest and have been wanting to try it for awhile!
See my menu plans from previous weeks here–> Menu Planning Monday
Looking for more quick fix menu ideas? Sign up for Ready, Set, Eat by clicking on the image below! It's completely free and you'll get recipe ideas delivered to you by e-mail!
*This post may contain affiliate links. Please refer to my disclosure policy for more information.