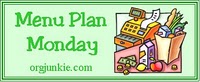 Last week was my first Menu Planning Monday post in awhile and I have to admit, it felt SO good to have a plan and to get back into a routine of cooking meals for my family!  If I have a "plan" it makes it so much easier to actually cook!  I work full time and my kids are "on the go" and have activities almost every week night, so I typically don't have much turn around time from when I walk in the door to work to when we have to be back out the door.  I use my slow cooker a LOT during the week.  It's a lifesaver and I'm sharing some of our tried and true favorites this week!  (JUST  A NOTE:  Prep time in the mornings is limited, too, so most of these recipes can be thrown together in  matter of minutes!)
The plan listed here just includes our dinner menu and recipes. I have calculated some Weight Watchers points values using the e-tools Recipe Builder, and points values this week are based on the new Points Plus program! (I will update with points values on the others as we have the meals)
If you've been reading my blog for awhile, then you know that for the past two years, I have done a $40 weekly budget. With the changes to our eating habits and the end of grocery stores in our area doubling and tripling coupons, I'm still experimenting to try to figure out what a reasonable budget is.  Stay tuned!
If you're new to menu planning or would like tips for getting started, check out this post here.  You can also view hundreds of meal plans each week at Orgjunkie.com
SUNDAY:  French dip sandwiches (slow cooker) – This is one of my family's FAVORITE recipes and it's SO easy to make!  If you haven't used a slow cooker before, this is a great recipe to start with (click on the link to get the recipe!)
MONDAY:  Chicken Lickin' Good Pork chops (slow cooker) – Another super easy, family friendly slow cooker recipe!  We serve with some mashed potatoes and corn.
TUESDAY:  Cream cheese chicken (slow cooker) ~   We rarely have leftovers when we make this because everyone loves it so much!  (and when I say "Loves it so much" I mean they're licking the plate because it's that good!)
Ingredients:
2-3 boneless skinless chicken breasts
Salt and pepper (to taste)
2 pkg. dry Ranch or Italian dressing mix (we usually only use one)
1 can cream of chicken soup (you can also use cream of mushroom if you prefer or that's what you have on hand)
8 oz. cream cheese – cut into cubes – substitute Philadelphia Cooking Creme instead!
½ c. chicken broth
Directions: Brush chicken with butter and sprinkle with salt and pepper. Place in crock pot and sprinkle 1 pkg. dry mix over all. Add cream of chicken soup and chicken broth.  Cover and cook on low for 6-7 hours. About 45 minutes before serving, add second packet of dry dressing mix (if you choose – we don't usually use it) and cooking creme . Cook until smooth.  Serve over rice or pasta.
WEDNESDAY:  Melt in your mouth meatloaf (slow cooker) – Whenever I mention this recipe, the most common response I get is something like this "Meatloaf….in the slow cooker?  Really?  I would have never thought of that!"  Yes, REALLY!  This one is super easy and totally family friendly!
THURSDAY:  Sweet potato foil pack tacos ~ I found this recipe on Marci's blog.  My family was skeptical the first time we tried these, but once they actually tasted them, they were a hit, even with my kids! (and that's not an easy feat!)
Ingredients:
1/2 lb ground beef or turkey
2-3 T taco seasoning
1/2 cup tomato sauce (4 ounces)
1 can black, kidney, or pinto beans, drained (I used black)
2-3 medium sweet potatoes, peeled and cut into 1/2-inch cubes (about 6 cups total)
2 T butter
salt
1 1/2 cups chopped fresh spinach
1 1/2 cups shredded cheddar cheese
sour cream, salsa, and/or guacamole for garnish
6 12-inch long pieces of aluminum foil
Directions:
Preheat oven to 425 degrees F.
Brown ground meat in a skillet over medium-high heat. Stir in taco seasoning, tomato sauce, and beans. Set aside.
To assemble packets, spray the foil with non-stick spray. Place 1 cup sweet potato cubes in the center of each piece. Top with a small piece of butter (about 1 tsp) and a pinch or two of salt. Sprinkle some chopped spinach over the sweet potatoes, followed by about 1/3 cup of taco meat and sprinkle of cheese. Fold the sides in, then bring the top and bottom ends of the foil together in the center and fold, sealing the packet.
Repeat with remaining ingredients, placing the packets on a rimmed cookie sheet. Bake for 25-30 minutes until the sweet potatoes are tender.
Serve with sour cream, salsa, and/or guacamole.  Makes 6 servings.
FRIDAY:  Country Ham and Macaroni Casserole – This is without a doubt my kids FAVORITE recipe.  They would eat it multiple times a week if that was an option!  The best part?  You can make two at once and freeze the second one!
Thanks to Sandy~Bettyinthekitchen (BabyCenter.com Cooking for Your Family Board)
1 lb country ham slices or regular smoked ham in one piece (I just use whatever leftover ham we have on hand)
1 large onion, diced
1 lb elbow macaroni
2 cups shredded extra sharp cheddar cheese (8 oz) – I use reduced fat
1 cup sour cream (I use reduced fat)
1 can cream of chicken soup (I use 98% fat free)
1/4 cup (1/2 stick) margarine, melted (I don't use this when I make it)
1 cup dry plain bread crumbs
1. Heat oven to 400º.
2. Bring 4 quarts water and ham to boiling in large pot. Once water begins to boil,
remove ham to a plate. Add onion and macaroni to pot. Return water to boiling; cook 8 minutes, stirring occasionally.
3. Coarsely chop ham, discarding any fat and bones.
4. Drain macaroni and onion and return to pot. Add ham, cheese, sour cream and soup. Scrape into a 13x9x2 baking dish. Pour melted margarine over top. Sprinkle with bread crumbs.
5. Bake in heated 400º oven 30 minutes or until heated through and top is golden brown.
Let stand 5 minutes before serving.
Note: Prepare in two 8×8 casserole dishes, bake one and freeze one (unbaked) for another day. If freezing, top with crumbs and margarine right before baking.
WW points = 9 points per serving (with modifications above), makes 8 servings 
SATURDAY:   Pizza night