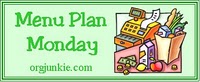 I'm trying to stay on track with menu planning.  Having a plan definitely makes it easier to cook!  Last week was a crazy week because my husband was out of town part of the week, my dad had surgery, and there were lots of other things going on!  This week will still be crazy, but not as bad as last week, so I'm hoping to stay on track!
The plan listed here just includes our dinner menu and recipes. I have calculated some Weight Watchers points values using the e-tools Recipe Builder, and points values this week are based on the new Points Plus program! (I will update with points values on the others as we have the meals)
If you've been reading my blog for awhile, then you know that for the past two years, I have done a $40 weekly budget. With the changes to our eating habits and the end of grocery stores in our area doubling and tripling coupons, I'm still experimenting to try to figure out what a reasonable budget is.  Stay tuned!
If you're new to menu planning or would like tips for getting started, check out this post here.  You can also view hundreds of meal plans each week at Orgjunkie.com
SUNDAY:  Slow Cooker chicken tortilla soup – This is a family favorite and seriously so yummy and easy to make!  If you haven't tried this one yet, add it to your list!
MONDAY:  Black bean and chicken burritos (slow cooker) – This is another family favorite and it's so easy to throw together in the mornings!
TUESDAY:  Baked potato bar – I found instructions on Pinterest for making baked potatoes in the slow cooker, so I'm going to test it out!  I was going to try this one out last week, but things were crazy and we didn't get a chance.
WEDNESDAY:  Easy garlic chicken – I found this recipe on Food.com. It sounds like it will be super easy to make. I can't wait to try it!
Ingredients:
4 boneless skinless chicken breasts
4 garlic cloves , minced
4 tablespoons brown sugar
3 teaspoons olive oil
Preheat oven to 500°F and lightly grease a casserole dish. In small sauté pan, sauté garlic with the oil until tender. Remove from heat and stir in brown sugar. Place chicken breasts in a prepared baking dish and cover with the garlic and brown sugar mixture. Add salt and pepper to taste. Bake uncovered for 15-30 minutes.
THURSDAY:  Ranch house pork chops and parmesan mashed potatoes (slow cooker) –
Ingredients: (pork chops)
6 pork chops, 1/2 inch thick
1 packet dry Ranch Dressing Seasoning
10 oz can Cream of Chicken Soup
Ingredients: (potatoes)
4 lbs peeled, cubed potatoes
5 Tablespoons real butter
1 cup fresh grated Parmesan cheese
6 cloves roasted garlic (directions are below)
1- 1 1/2 Cups warm skim milk (any milk will do, I used skim)
1 Tablespoon salt, or to taste
1 teaspoon fresh cracked black pepper, or to taste
Place pork chops, Ranch seasoning and soup into a medium sized crock pot over high heat for 4 hours or low heat for 6 hours.
Place potatoes into a large pot of cold water. Place onto stove top over high heat and bring to a boil. Once water is boiling, cook for 10-12 minutes or until potatoes are fork tender. Drain and transfer to the work bowl of a stand or electric mixer. Mix on low until potatoes are mashed then add butter, Parmesan, garlic, milk, salt and pepper. Season to taste if needed. For thinner mashed potatoes add more milk, slowly until your desired consistency. Scoop mashed potatoes onto serving plates and top with pork chops and soup gravy from crock pot. Put parsley on top to serve.
FRIDAY:  It's my husband's birthday – I'll let him choose (I'm guessing he'll choose to eat out!)
SATURDAY:  Family birthday celebration!
Perfect Enchiladas – The basis for this recipe comes from The Pioneer Woman, but she uses ground beef and I'm going to use chicken (last time I used pork and that was yummy, too!)
Our "filling" – I'm going to put 2 frozen chicken breasts in the crockpot on low with a can of enchilada sauce (red) and some taco seasoning.  I'll shred the taco meat and that and some cheese will become our "filling"
The sauce (from Marci's blog)
1 T. canola oil
1 T. flour/cornstarch
1 large (28 oz) can enchilada/red sauce
2 c. chicken broth
1/2 t. salt
1/2 t. ground black pepper
2 T. chopped cilantro
-In a large saucepan over med. heat, add oil and flour and whisk together to make a paste, cooking for 1 min.
-Pour in the red sauce, chicken broth, salt, pepper, and cilantro, and bring to boil.
-Reduce heat and simmer 30-45 min.
I'm going to use 1 dozen flour tortillas.  Whenever I make enchiladas, I always put a little bit of sauce along the bottom of the pan to keep the enchiladas from stocking to the pan.  I'll fill each tortilla with the shredded chicken breast and cheese, roll it, and place it in a 9X13 Pyrex baking dish. Then, I'll cover the rolled enchiladas with the sauce and some cheese and bake it in the oven for 20-30 minutes at 350 until the cheese is melted.
WW points = 9 per serving for 2 enchiladas
Creamy chicken enchiladas – This is a family favorite!
Ingredients:
1 can cream of chicken soup (I use the 98% FF kind)
1 can cream of mushroom soup (I use the 98% FF kind)
2 cans green enchilada sauce
1 8 oz-16 oz. tub of sour cream (depends how spicy you want the enchiladas)
2-3 chicken breasts, shredded (if I'm in a hurry, I use canned chicken)
8 oz cheese, shredded
1 dozen flour tortillas (you could use corn also) – we are using whole wheat!
Add cream of chicken soup, cream of mushroom soup, and enchilada sauce to a pan. Cook on medium low heat, stirring occasionally. When sauce is will mixed and starts to thin, add sour cream. Continue stirring occasionally until the sauce is well mixed and thinned out. Place a layer of the sauce along the bottom of a 9X13 baking dish. Fill each tortilla with the shredded chicken, sauce, and cheese. Roll and place in the baking dish. When you have filled all of the tortillas (this should make 1 dozen), pour the remain sauce over the top of the enchiladas and then cover with cheese. Bake at 350 degrees for 25-30 minutes until the cheese is well melted.
WW points = 6 points 
Philadelphia 3 step cheesecake
Ingredients:
2 packages (8 ounces each) Philadelphia Cream Cheese (I use the 1/3 less fat and it works fine)
1/2 cup sugar
1/2 tsp vanilla
2 eggs
1 T fresh lemon juice
1/2 tsp grated lemon peel
1 Honey Maid graham cracker pie crust
Beat cream cheese, sugar, and vanilla with electric mixer on medium speed until well blended. Add eggs, 1 at a time, mixing on low speed after each addition just until blended. Stir in fresh lemon juice and grated lemon peel. Pour into crust. Bake at 350 degrees for 40 minutes or until center is almost set. Cool and refrigerate 3 hours (or overnight). I add a can of cherry pie filling on top.