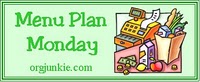 I had a few really good week of menu planning and last week with the holiday, everything went downhill.  I'm trying to get back into the routine again.  This week's menu has lots of quick fix and slow cooker meals because I'm more likely to stick to my meal plan if I throw everything together in the morning before I leave for work.
If you're new to menu planning or would like tips for getting started, check out this post here–> Tips for menu planning
You can also view hundreds of meal plans each week at Orgjunkie.com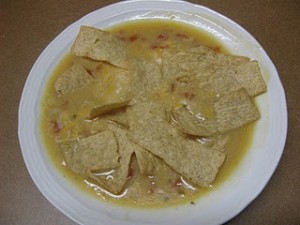 SUNDAY:  Creamy Chicken tortilla soup – When I need a quick and easy meal, this is my "go to" recipe and as an added bonus, my entire family loves it!
MONDAY:  Baked Ravioli – I have been wanting to try this recipe since I saw it on Pinterest.  It looks yummy and easy to make!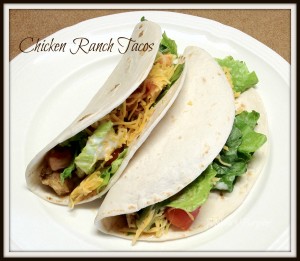 TUESDAY:  Chicken Ranch Tacos (slow cooker) – Our family fell in love with this recipe the first time we tried it.  It's quick and easy to throw together, too!
WEDNESDAY: Melt in Your Mouth Meatloaf (slow cooker)- This is another family favorite that is super easy to make!
THURSDAY:  Chicken and stuffing (slow cooker) – This recipe is easy to throw together and super yummy!
Ingredients:
4 to 6 boneless, skinless chicken breasts
1 can 98% fat free cream of chicken soup
1/3 cup milk
1 pkg (6 oz.) chicken-flavored stuffing mix
1 2/3 cups water
Directions: Place chicken in greased slow cooker. In a separate bowl, combine soup and milk, then pour over chicken. Combine stuffing mix and water. Spoon over chicken and soup mixture. Cover and cook on low heat 6-8 hours. Makes 4-6 servings.
FRIDAY:  Meatball Sub Casserole – This is another recipe that I found on Pinterest that I thought would be fun for our family to try.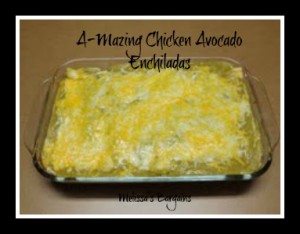 SATURDAY: A-Mazing Chicken Avocado Enchiladas – I had pinned this recipe on Pinterest several months ago and finally got around to making it. I made some modifications to make it more "family friendly" for my family. Both of my kids loved it and asked for seconds. My 5 year old said it was "the bestest meal ever."
See my menu plans from previous weeks here–> Menu Planning Monday
Looking for more quick fix menu ideas? Sign up for Ready, Set, Eat by clicking on the image below! It's completely free and you'll get recipe ideas delivered to you by e-mail!
*This post may contain affiliate links. Please refer to my disclosure policy for more information.