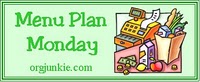 I'm not ashamed to admit that I've had a hard time getting back into a routine of menu planning and finding time to throw meals together before I leave for work in the morning, but I keep trying!  Here's my plan for this week!
If you're new to menu planning or would like tips for getting started, check out this post here–> Tips for menu planning
You can also view hundreds of meal plans each week at Orgjunkie.com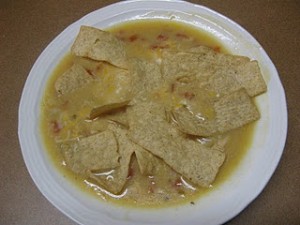 SUNDAY:  Chicken Tortilla soup (slow cooker) – This is one of my family's favorite recipes. It's also one of my favorite recipes to throw together when I'm short on time because I usually have everything on hand and it is literally a "dump and go" recipe!
MONDAY:  Spinach Wraps  – This is a quick and easy meal when I don't have time to prepare anything in the morning!  I buy Spinach Wraps, a Caesar salad mix, and Tyson grilled chicken strips.  I mix the chicken and Caesar salad mix together and fill the wraps.  Everyone loves it!
TUESDAY:  Slow Cooker Chile Colorado burritos – I discovered this recipe on Pinterest and it has become a family favorite.  I could make it once a week and no one would complain!
WEDNESDAY:  Chicken Lickin' Good Pork Chops (slow cooker) – This is another quick and easy recipe to make that is always a hit with my family!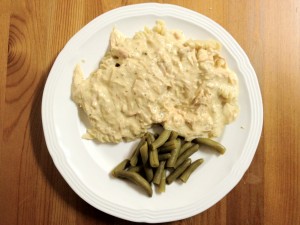 THURSDAY:  Cream cheese chicken (slow cooker)
FRIDAY:  Melt in Your Mouth Meatloaf (slow cooker)
SATURDAY:  Sweet potato foil pack tacos ~ I found this recipe on Marci's blog.  My family was skeptical the first time we tried these, but once they actually tasted them, they were a hit, even with my kids! (and that's not an easy feat!)  I love this recipe because it's low maintenance and yummy!
*This post may contain affiliate links. Please refer to my disclosure policy for more information.