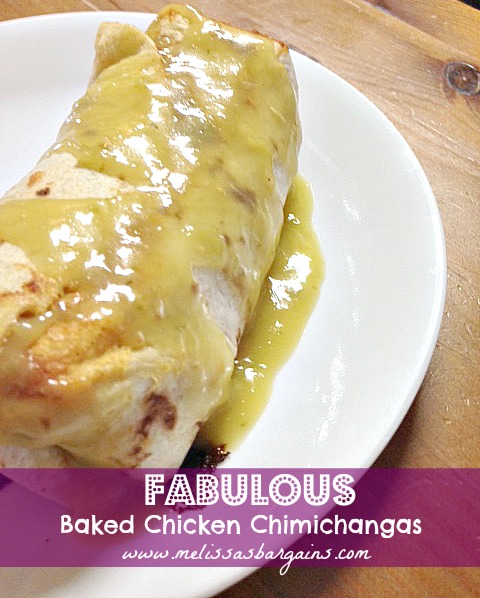 I have had this recipe on my "to try" list for months now.  I have no idea why I didn't try it sooner, but once I did try it, I quickly realized that we have been missing out!  My husband deemed it a "keeper" and my son, who is 6, stroked my ego quite a bit!  He told me that I should entered a cooking contest, and that if I did and I made these, I would win for sure!  The inspiration for this recipe came from Six Sisters Cafe although I changed it up quite a bit to make it easier!  I'm all about simplicity when it comes to cooking!
See more of my favorite recipes here–> Melissa's Bargains Favorite Recipes on Pinterest
FABULOUS Baked Chicken Chimichangas
Prep time:
Cook time:
Total time:
Yummy, easy to make chicken chimichangas
Ingredients
3-4 frozen chicken breasts
1 can green enchilada sauce (10 oz)
1 package cream cheese (8 oz)
Taco seasoning (1/2 package)
1 package flour tortillas (10 inch)
2 cups Herdez salsa verde (any salsa verde should work)
1 can cream of chicken soup (I used the 99% fat free version)
8 ounces sharp cheddar cheese, shredded
sour cream (Optional – for topping)
Instructions
Place the chicken breasts at the bottom of the slow cooker and pour the green enchilada sauce over the top. I use frozen chicken breasts. Cook for 3-4 hours on high or 6-8 hours on low.
Shred the chicken breasts and add in the cream cheese (I cut mine into chunks to help it melt faster) and the taco seasoning. Mix together and cook on low for 30-40 minutes (Until the cream cheese is melted).
Preheat the oven to 350 degrees and spray a 9X13 baking pan with non-stick spray. You can also use a cookie sheet, which is probably what I will do next time.
Fill each tortilla with the chicken mixture. Top with shredded cheese. Then, roll the tortilla into a rectangular packet and place it in the baking pan. Brush olive oil over the top and bake for 15-20 minutes on each side. (Once they are brown and crispy on top, turn them)
While they are baking, mix the Herdez salsa and the cream of chicken soup on the stovetop.
To serve, place the chimichanga on a plate, top with the sauce, some shredded cheese, and sour cream if you like!