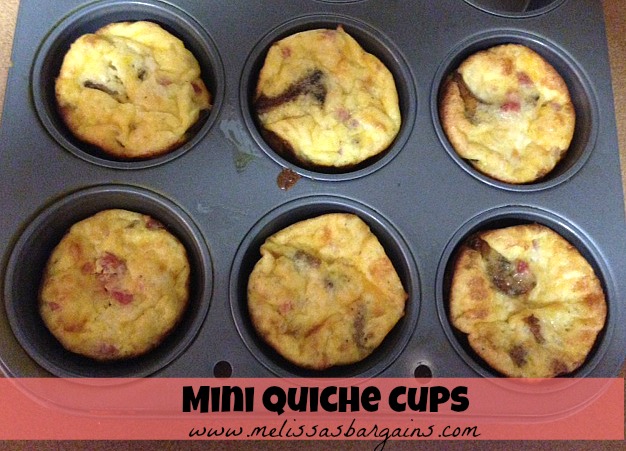 The inspiration for this recipe came from a Spinach Quiche Cups recipe I found on Pinterest.  I LOVE spinach, but I didn't think my kids would go for this recipe if I included spinach, so I adapted it and included some of their favorites.  My kids love to help out in the kitchen, so I'm always looking for recipes they can help with and this one is perfect!
Mini Quiche Cups
Prep time:
Cook time:
Total time:
Mini quiche cups stuffed with your favorites. Perfect for kids who like to help in the kitchen!
Ingredients
Olive oil
4 eggs
Fresh spinach (if you choose)
Other toppings of choice (we used mushrooms, ham, and sausage)
1 cup shredded cheese of choice (we used Swiss cheese)
2 T heavy cream or half and half (we used half and half)
salt, pepper, garlic powder, and onion powder (to taste)
Instructions
Preheat the oven to 375 degrees.
Heat the olive oil in a skillet and saute mushrooms. (if you choose to use them)
While the mushrooms are cooking, whisk the eggs.
Stir in the cream, cheese, and toppings and mix well.
Spray a muffin tin and divide the egg mixture evenly among cups. We used a spoon for this.
Bake for 23-28 minutes. You may want to check on them around 20 minutes if this is your first time cooking them. I cooked mine for 23 and they were a bit overdone.
See more of my recipe posts here–> Recipes