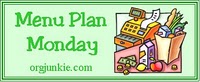 This week's menu is full of super easy recipe ideas. I'm on week 3 of a sinus infection now and I know it's going to be a super busy week, so I'm not kidding myself into thinking we can do anything fancy. I'll be lucky if we follow this menu!
The plan listed here just includes our dinner menu and recipes. I have calculated some Weight Watchers points values using the e-tools Recipe Builder, and points values this week are based on the new Points Plus program! (I will update with points values on the others as we have the meals)
If you've been reading my blog for awhile, then you know that for the past two years, I have done a $40 weekly budget. With the changes to our eating habits, I'm going to increase our budget to $50 per week and I'm really going to try to stick to that, but I'm not even sure that will be enough. This will be a trial and error experience, so stay tuned!
If you're new to menu planning or would like tips for getting started, check out this post here. You can also view hundreds of meal plans each week at Orgjunkie.com
SUNDAY: We had a game plan, but things didn't work out according to the plan, so we ended up having pizza instead
MONDAY: Melt in your mouth meatloaf (slow cooker) – I've made this several times now for our family. It's easy to make, very kid friendly, and yummy!
Ingredients:
2 eggs
3/4 c. milk (we use skim)
2/3 c. seasoned bread crumbs
2 tsp dried, minced onion
1 tsp salt
1/2 tsp rubbed sage
1 1/2 pounds ground beef (we always make this with ground turkey instead and it's yummy!)
1/4 c. ketchup
2 T brown sugar
1 tsp ground mustard
1/2 tsp Worcestershire sauce
Directions
1. In a large bowl, combine the first six ingredients. Crumble beef over mixture and mix well (mixture will be moist.) Shape into a round loaf; place in a 5-qt. slow cooker. Cover and cook on low for 5-6 hours or until a meat thermometer reads 160 degrees F.
2. In a small bowl, whisk the ketchup, brown sugar, mustard and Worcestershire sauce. Spoon over the meat loaf. Cook 15 minutes longer or until heated through. Let stand for 10-15 minutes before cutting.
WW points = 5 per serving with the ground turkey, ground beef may be more (makes 6 servings)
Sides – Sour cream mashed potatoes (4 pts) and green beans (0 pts)
TUESDAY: Fajitas – This one is SO easy because I buy the pre-seasoned fajitas and all you have to do is slap them on the grill and add the fixings! We'll also have a fruit salad to go with it.
WEDNESDAY: Slow cooker chili – It doesn't get any easier than this! It's basically a "dump and go" recipe!
Ingredents:
1 package 93/7 Lean Ground Beef or Turkey, browned (I use whatever I have on hand)
1 cans (14-1/2 ounce each) diced tomatoes, undrained
1 can Ranch style beans (I don't drain these because the seasoning is so yummy!)
1 can light kidney beans (drained)
1 8 oz can tomato sauce
3 teaspoons chili powder (I use a chili seasoning packet)
You literally put everything in the slow cooker on low for the day! That's it!
THURSDAY: Teriyaki chicken – I got this recipe from a freezer swap I did. It's yummy and so easy to make! In this case, I'm making a double batch. I'll make it the night before and let one sit in the marinade and the other one will go into the freezer for another time!
Ingredients:
1 cup sugar
1 cup soy sauce
1 cup pineapple juice
4 chicken breasts
Directions:
Mix marinade ingredients together and throw in a freezer bag with the chicken breasts. If you use it as a freezer meal, just defrost and cook as you please when ready to eat!
We'll serve this with some grilled pineapple – YUM!
FRIDAY: Chicken spinach wraps – Just call this week "cheater" week. I picked some of the easiest recipes I have on hand because I knew it was going to be a busy week!
Ingredients:
Spinach wraps
Chicken (grilled or breaded) – yes, I'm going the more expensive route and using pre-cooked stuff from the grocery store
Diced tomatoes
Spinach leaves
Caesar salad mix
Shredded cheese
I mix all of the ingredients but the wraps together in a big bowl and then create individual wraps. Super easy! (Most pre-packaged caesar salad mixes already contain the dressing, too!)
SATURDAY: Steak and baked potatoes – Yummy Omaha Steaks thanks to a recent Plum District deal! 🙂
*This post may contain affiliate links. Please refer to my disclosure policy for more information.