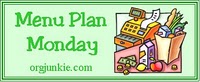 Following the menu was a mess for us last week.  I was gone two nights and my kids had activities three nights, plus I've been battling a sinus infection.  I'm hoping this week is much better (and smoother!)
The plan listed here just includes our dinner menu and recipes. I have calculated someWeight Watchers points values using the e-tools Recipe Builder, and points values this week are based on the new Points Plus program! (I will update with points values on the others as we have the meals)
If you've been reading my blog for awhile, then you know that for the past two years, I have done a $40 weekly budget. With the changes to our eating habits, I'm going to increase our budget to $50 per week and I'm really going to try to stick to that, but I'm not even sure that will be enough. This will be a trial and error experience, so stay tuned!
If you're new to menu planning or would like tips for getting started, check out this post here.  You can also view hundreds of meal plans each week at Orgjunkie.com
SUNDAY:  Creamy chicken noodle soup (slow cooker) 
Ingredients:
3 cans chicken broth
3 cans cream of chicken soup (I use 98% fat free)
3-4 frozen chicken breasts
3 carrots, diced
2-3 celery stalks, diced
parsley, to taste
onion powder (you could also use "real" onions, but I don't like them, so we use the powder for flavor instead)
garlic powder, to taste
salt and pepper, to taste
egg noodles
Place the frozen chicken breasts on the bottom of your slow cooker, then add the cream of chicken soup, seasonings, and other ingredients. Cook on low for 6-8 hours. About 30 minutesbefore you're ready to eat, shred the chicken. You can either cook the noodles separately and then drain and add them to the slow cooker or you can add them to the slow cooker and cook everything on high for 30 minutes.
MONDAY:  Cowboy casserole – We have left over roast beef from our french dip sandwiches, so I'm going to use that in place of the ground beef.  I'm also going to substitute Ranch style beans for baked beans.
Ingredients:
1 lb lean ground beef (we use 93/7)
1 can (16 oz) baked beans
1/2 cup BBQ sauce
2/3 c. milk
2 c. Bisquick
1 T butter or margarine, softened
1/2 c. shredded cheddar cheese
Heat over to 425. In 10-inch skillet, cook beef over medium-high heat 5-7 minutes, stirring occasionally until thoroughly cooked. Drain beef. Stir baked beans and BBQ sauce into beef. Heat to boiling, stirring occasionally. Pour into ungreased 2 quart casserole.
Meanwhile, in a medium bowl, stir Bisquick mix, milk, and butter until soft dough forms. Drop dough by 12 spoonfuls onto beef mixture. Bake uncovered 18-22 minutes (or until topping is golden brown). Sprinkle with cheese. Bake about 3 minutes longer or until cheese is melted.
WW points = 10 points/serving (we'll serve with a green salad and green beans)
TUESDAY:  Chicken Taco Rice – I got this recipe from a freezer swap awhile ago – it's easy to make and everyone loves it!
Ingredients:
2 cups cooked, shredded chicken
3 cups Chicken broth
8 oz. Tomato sauce
1 pkg. Taco seasoning mix
1-1/2 Brown rice, uncooked
1/2 cup Red or Green Pepper
1 can of corn
On Hand:
Shredded cheddar cheese
Optional Ingredients:
Tortilla chips, flour tortillas, tomatoes, lettuce, salsa, etc.
Assembly Directions:
Mix everything in a large saucepan. Bring to a boil. Cover, reduce heat and simmer until rice is done (about 40-50 minutes). Remove from heat and let stand 5 minutes. Fluff with a fork.
Freezing Directions:
Allow rice mixture to cool. Place in appropriate sized containers. Seal, label and freeze.
Serving Directions:
Thaw in the refrigerator. Reheat in microwave until warm. You can also reheat it in a saucepan if you add a little bit of water before heating. Sprinkle cheese on top and serve with tortilla chips.
WEDNESDAY:  Rice meatballs – This is a recipe from my mother in law and I love it because it'squick and easy to throw together!
Ingredients:
1 cup uncooked minute rice
1 lb ground beef (I use 93/7)
1 egg, slightly beaten
2 t. grated onion
2 t. salt (I cut this in half)
1/8 t marjoram
dash pepper
2 1/2 cups tomato juice (or two 8 oz cans tomato sauce mixed with 1/2 cup water)
1/2 t sugar
Combine rice and all other ingredients except tomato juice and sugar. Form balls and arrange in skillet. Pour tomato juice & sugar over meatballs. Bring to boil. Reduce heat & simmer uncovered 15 minutes.
WW points = 7 points per serving
Sides = green beans, green salad, and watermelon
THURSDAY:  Country Ham and Macaroni Casserole – This recipe is always, always my trusty standby.  My whole family loves it, it's easy to throw together, and I usually have the ingredients on hand.  I think my kids would eat it every night if I'd let them.
Thanks to Sandy~Bettyinthekitchen (BabyCenter.com Cooking for Your Family Board)
Ingredients:
1 lb country ham slices or regular smoked ham in one piece (I just use whatever leftover ham we have on hand)
1 large onion, diced
1 lb elbow macaroni (whole wheat)
2 cups shredded extra sharp cheddar cheese (8 oz) – I use reduced fat
1 cup sour cream (I use reduced fat)
1 can cream of chicken soup (I use 98% fat free)
1/4 cup (1/2 stick) margarine, melted (I don't use this when I make it)
1 cup dry plain bread crumbs
1. Heat oven to 400º.
2. Bring 4 quarts water and ham to boiling in large pot. Once water begins to boil,
remove ham to a plate. Add onion and macaroni to pot. Return water to boiling; cook 8 minutes, stirring occasionally.
3. Coarsely chop ham, discarding any fat and bones.
4. Drain macaroni and onion and return to pot. Add ham, cheese, sour cream and soup. Scrape into a 13x9x2 baking dish. Pour melted margarine over top. Sprinkle with bread crumbs.
5. Bake in heated 400º oven 30 minutes or until heated through and top is golden brown.
Let stand 5 minutes before serving.
Note: Prepare in two 8×8 casserole dishes, bake one and freeze one (unbaked) for another day. If freezing, top with crumbs and margarine right before baking.
WW points = 9 points per serving (with modifications above), makes 6 servings
FRIDAY:  Chicken enchilada casserole – This is a recipe that my sister came up with. She uses canned chicken when she makes it. I came up with a little bit of a variation.  It is so easy and kid friendly, too!
Ingredients:
2 chicken breasts (shredded) – or 1 can chicken
1 large can red enchilada sauce
corn tortillas
shredded cheese – I use reduced fat
Directions: (this is what I do) – I put my chicken and the enchilada sauce in the crockpot the night before and then shred it when I get up in the morning. If you are using canned chicken, you can just shred it as you are making the casserole. I spread some of the chicken/sauce mixture along the bottom of the casserole dish so it doesn't stick. Break corn tortillas into four pieces and layer across the bottom of the casserole dish. Spread a layer of the chicken/sauce mixture and cheese. Add another layer of corn tortillas. Continue until you are out of the chicken/sauce mixture. Bake at 350 degrees for 25-30 minutes until the cheese is bubbly.
WW points = 8 points per serving (for 4 servings) – serve w/ green salad and grapes
SATURDAY:  Teriyaki chicken – I got this recipe from a freezer swap I did.  It's yummy and so easy to make!  In this case, I'm making a double batch.  I'll make it the night before and let one sit in the marinade and the other one will go into the freezer for another time!
Ingredients:
1 cup sugar
1 cup soy sauce
1 cup pineapple juice
4 chicken breasts
Directions:
Mix marinade ingredients together and throw in a freezer bag with the chicken breasts. If you use it as a freezer meal, just defrost and cook as you please when ready to eat!
We'll serve this with some grilled pineapple – YUM!
*This post may contain affiliate links. Please refer to my disclosure policy for more information.