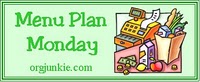 It's another busy week, so I'm trying to keep my recipes as simple as possible!
The plan listed here just includes our dinner menu and recipes. I have calculated some Weight Watchers points values using the e-tools Recipe Builder, and points values this week are based on the new Points Plus program! (I will update with points values on the others as we have the meals)
If you've been reading my blog for awhile, then you know that for the past two years, I have done a $40 weekly budget. With the changes to our eating habits, I'm going to increase our budget to $50 per week and I'm really going to try to stick to that, but I'm not even sure that will be enough. This will be a trial and error experience, so stay tuned!
If you're new to menu planning or would like tips for getting started, check out this post here.  You can also view hundreds of meal plans each week at Orgjunkie.com
SUNDAY:  Fajitas – I buy pre-seasoned meat, so it's just a matter of adding the fixings and throwing the meat on the grill!  So easy!
MONDAY:  Chicken licking good pork chops (slow cooker)
Ingredients:
6-8 lean pork chops, 1-inch thick
1/2 cup flour (omit if you don't brown chops in skillet)
1 tsp salt
1 1/2 tsp dry mustard
1/2 tsp garlic powder
2 Tbsp oil (omit if you don't brown chops in skillet)
1 10.5oz can chicken & rice soup
Dredge pork chops in mixture of flour, salt, dry mustard & garlic powder. Brown chops in oil in a large skillet. Place browned pork chops in crockpot. Add can of soup. Cover and cook on low 6-8 hours or high 3 1/2 hours. If I don't brown the chops, then I just toss the salt, dry mustard & garlic powder in the crockpot instead of dredging the chops.
*Note: When making this meal, I use a can of family size chicken & rice soup and drain off some of the broth – it keeps the meat tender and there is more of the chicken & rice mixture for everyone! If you don't have time to brown the chops first in a skillet, I've also just dipped it into the flour mixture and put it straight into the slow cooker and it works fine that way, too.
WW points = 6 servings, 7 points per serving
TUESDAY:  Sweet potato foil pack tacos ~ I found this recipe on Marci's blog.  My family was skeptical the first time we tried these, but once they actually tasted them, they were a hit, even with my kids! (and that's not an easy feat!)
Ingredients:
1/2 lb ground beef or turkey
2-3 T taco seasoning
1/2 cup tomato sauce (4 ounces)
1 can black, kidney, or pinto beans, drained (I used black)
2-3 medium sweet potatoes, peeled and cut into 1/2-inch cubes (about 6 cups total)
2 T butter
salt
1 1/2 cups chopped fresh spinach
1 1/2 cups shredded cheddar cheese
sour cream, salsa, and/or guacamole for garnish
6 12-inch long pieces of aluminum foil
Directions:
Preheat oven to 425 degrees F.
Brown ground meat in a skillet over medium-high heat. Stir in taco seasoning, tomato sauce, and beans. Set aside.
To assemble packets, spray the foil with non-stick spray. Place 1 cup sweet potato cubes in the center of each piece. Top with a small piece of butter (about 1 tsp) and a pinch or two of salt. Sprinkle some chopped spinach over the sweet potatoes, followed by about 1/3 cup of taco meat and sprinkle of cheese. Fold the sides in, then bring the top and bottom ends of the foil together in the center and fold, sealing the packet.
Repeat with remaining ingredients, placing the packets on a rimmed cookie sheet. Bake for 25-30 minutes until the sweet potatoes are tender.
Serve with sour cream, salsa, and/or guacamole.  Makes 6 servings.
WEDNESDAY: – Country Style Pork Loin (slow cooker)
1 boneless whole pork loin roast (3 pounds)
1/2 cup all-purpose flour
1 teaspoon onion powder
1 teaspoon ground mustard
2 tablespoons canola oil
2 cups chicken broth
1/4 cup cornstarch
1/4 cup cold water
Hot mashed potatoes, optional
Cut pork roast in half. In a large resealable plastic bag, combine the flour, onion powder and mustard. Add pork, one portion at a time, and shake to coat. In a large skillet, brown pork in oil over medium-high heat on all sides. Transfer to a 5-qt. slow cooker. Pour broth over pork. Cover and cook on low for 5-6 hours or until tender. Remove pork and keep warm. For gravy, strain cooking juices and skim fat; pour 2-1/2 cups cooking juices into a large saucepan. Combine cornstarch and water until smooth; stir into juices. Bring to a boil; cook and stir for 2 minutes or until thickened. Slice pork; serve with gravy and mashed potatoes if desired. Yield: 8 servings.
THURSDAY:  Parsley Parmesan chicken – I got this recipe as part of a freezer swap that I belonged to awhile ago.  It's delicious and very easy to make!
Ingredients:
2 lb boneless skinless chicken breasts (or 6-8 chicken breasts)
1/3 bottle of Italian salad dressing
1/2 c shredded Parmesan cheese
1/3 c dry bread crumbs (used Seasoned Italian bread crumbs)
1 1/2 T parsley flakes
1/2 T paprika
Salt & Pepper
Assembly Directions:
Marinate chicken in dressing overnight.
Mix the remaining ingredients and bread each breast with coating.
To Freeze: Lay chicken breasts side by side on baking sheets and place in freezer for 1 to 2 hours to firm up. Place chicken in labeled gallon size Freezer Bag and freeze.
Cooking Directions:
Thaw & bake at 350 uncovered for 30 minutes or until done.
Makes 8 (4 oz) chicken breasts
FRIDAY:  Peppered Steak  – this is a family recipe that came from my mother in law
Ingredients:
3 cups hot cooked rice
1 lb lean beef round steak (cut into 1/2 inch thick strips)
1 T Paprika
2 T butter
2 cloves garlic, crushed
1 1/2 c. beef broth
1 cup sliced green onions
2 green peppers, cut in strips
2T cornstarch
1/4 c. water
1/4 c. soy sauce
2 lg tomatoes (cut in eighths)
Pound steak to 1/4 inch thick. Cut into 1/4 inch wide strips. Sprinkle meat with paprika. Let stand. Brown meat in butter. Add garlic and brother. Cover and simmer for 30 minutes. Stir in onions and green peppers. Cover and cook 5 minutes. Blend cornstarch, water and soy sauce. Stir into meat mixture. Cook, stirring until clear and thickened, about 2 minutes. Add tomatoes and stir gently. Serve over beds of fluffy rice.
WW points = 7 points/serving  (add an additional 3 points for 1/2 cup rice and 5 points for 1 cup rice), this makes 4 servings.
SATURDAY:  Lasagne – I use the recipe on the back of the Barilla noodles