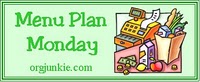 I've been trying to meal plan for a month at a time, which worked out well in September and October.  This month it isn't working out as well.  I've been sick, my kids are sick and between illnesses and family activities, we've made some revisions!  Here's our menu plan for this week and it includes lots of "comfort foods"
If you're new to menu planning or would like tips for getting started, check out this post here–> Tips for menu planning
You can also view hundreds of meal plans each week at Orgjunkie.com
SUNDAY:  Spaghetti – I am sick and didn't feel like cooking, so this was quickly and easy to throw together and it's always a favorite with my family.
MONDAY:  Chicken and stuffing (slow cooker) – This recipe is easy to throw together and super yummy! It was supposed to be on our menu last week, but I didn't get around to making it.
Ingredients:
4 to 6 boneless, skinless chicken breasts
1 can 98% fat free cream of chicken soup
1/3 cup milk
1 pkg (6 oz.) chicken-flavored stuffing mix
1 2/3 cups water
Directions: Place chicken in greased slow cooker. In a separate bowl, combine soup and milk, then pour over chicken. Combine stuffing mix and water. Spoon over chicken and soup mixture. Cover and cook on low heat 6-8 hours. Makes 4-6 servings.
TUESDAY:  Easy enchirito – This recipe was originally posted on Blessed with Grace.  It's been awhile since we've had it, but it's easy to make and very yummy!
Ingredients:
* 1 package burrito-sized flour tortillas
* 1 package burrito OR taco seasoning (OR your best homemade version)
* 1 lb lean hamburger meat
* 1 can re-fried beans (I used fat-free.)
* 1 15 oz can Enchilada sauce (I only used 3/4 of this can.)
* 2 cups shredded cheddar (I used Mexican blend)
* 4-5 green onions, chopped
Directions:
Preheat oven 350. Prepare 9×13 casserole dish with non-stick spray.
WEDNESDAY:  Creamy Chicken casserole – This is a new recipe for us, and I can't wait to test it out!
THURSDAY:  Turkey Parmesan Meatloaf – My family loves meatloaf (seriously) and I'm always looking for new recipes!  I found this recipe on What's Cookin' Chicago and it sounded yummy, so we're going to give it a try.  We're using ground turkey instead of ground chicken.
FRIDAY: Country Style Macaroni Casserole – Every time I ask my family to help out with menu planning and give me recipe suggestions, this is always one of the things they choose.
Thanks to Sandy~Bettyinthekitchen (BabyCenter.com Cooking for Your Family Board)
Ingredients:
1 lb country ham slices or regular smoked ham in one piece (I just use whatever leftover ham we have on hand)
1 large onion, diced
1 lb elbow macaroni (whole wheat)
2 cups shredded extra sharp cheddar cheese (8 oz) – I use reduced fat
1 cup sour cream (I use reduced fat)
1 can cream of chicken soup (I use 98% fat free)
1/4 cup (1/2 stick) margarine, melted (I don't use this when I make it)
1 cup dry plain bread crumbs
1. Heat oven to 400º.
2. Bring 4 quarts water and ham to boiling in large pot. Once water begins to boil,
remove ham to a plate. Add onion and macaroni to pot. Return water to boiling; cook 8 minutes, stirring occasionally.
3. Coarsely chop ham, discarding any fat and bones.
4. Drain macaroni and onion and return to pot. Add ham, cheese, sour cream and soup. Scrape into a 13x9x2 baking dish. Pour melted margarine over top. Sprinkle with bread crumbs.
5. Bake in heated 400º oven 30 minutes or until heated through and top is golden brown.
Let stand 5 minutes before serving.
Note: Prepare in two 8×8 casserole dishes, bake one and freeze one (unbaked) for another day. If freezing, top with crumbs and margarine right before baking.
SATURDAY:  Sweet & Sour Chicken – According to the pins I've seen on Pinterest, this sweet & sour chicken recipe and fried rice recipe are amazing!  I can't wait to try them out!
See my menu plans from previous weeks here–> Menu Planning Monday
Looking for more quick fix menu ideas? Sign up for Ready, Set, Eat by clicking on the image below! It's completely free and you'll get recipe ideas delivered to you by e-mail!
*This post may contain affiliate links. Please refer to my disclosure policy for more information.