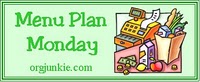 Is it Monday again already?  Where has my summer gone?  We traveled more than we were at home this summer, which isn't a bad thing, but I'm trying to ease my way back into menu planning and cooking agani!  This week is also my first full week back at work, so I'll be cooking a lot of slow cooker meals and some family favorites, too!
If you're new to menu planning or would like tips for getting started, check out this post here.  You can also view hundreds of meal plans each week at Orgjunkie.com
SUNDAY:  Creamy chicken enchiladas – This is a family favorite and we haven't had them in awhile, so everyone was super excited!
Ingredients:
1 can cream of chicken soup (I use the 98% FF kind)
1 can cream of mushroom soup (I use the 98% FF kind)
2 cans green enchilada sauce
1 8 oz-16 oz. tub of sour cream (depends how spicy you want the enchiladas)
2-3 chicken breasts, shredded (if I'm in a hurry, I use canned chicken)
8 oz cheese, shredded
1 dozen flour tortillas (you could use corn also) – we are using whole wheat!
Add cream of chicken soup, cream of mushroom soup, and enchilada sauce to a pan. Cook on medium low heat, stirring occasionally. When sauce is will mixed and starts to thin, add sour cream. Continue stirring occasionally until the sauce is well mixed and thinned out. Place a layer of the sauce along the bottom of a 9X13 baking dish. Fill each tortilla with the shredded chicken, sauce, and cheese. Roll and place in the baking dish. When you have filled all of the tortillas (this should make 1 dozen), pour the remain sauce over the top of the enchiladas and then cover with cheese. Bake at 350 degrees for 25-30 minutes until the cheese is well melted.
MONDAY:  Slow cooker chili  – It doesn't get any easier than this dump and go recipe!
Ingredients:
1 lb ground beef (brown in skillet and then place in crockpot)
1 can dark kidney beans (drained and rinsed)
1 can Ranch style beans
1 can diced tomatoes
1 can crushed tomatoes
1 packet chili spices
Mix all ingredients in crockpot and cook on high for 5 hours or low for 8 hours. Sprinkle cheese on top.
TUESDAY:  Lemon chicken saute – This recipe has come to be known as "Grandma's chicken" around our house because it was a recipe from my husband's grandmother that his mom used to make for them
Ingredients:
4 boneless, skinless chicken breasts (this is what we need for our family, adjust accordingly for yours)
3 T all purpose flour
PAM no-stick cooking spray
1/3 cup butter or margarine (we use I Can't Believe It's Not Butter)
1/3 cup teriyaki sauce
3 T lemon juice
1 tsp minced garlic
1/2 tsp sugar
Roll chicken in flour to coat. Spray large skillet with Pam or other cooking spray. Add butter and melt over medium heat. Add chicken breast and saute till lightly browned on one side. Turn and brown on second side, 5-7 minutes, or until lightly browned. Remove chicken and set aside. Stir teriyaki sauce, lemon juice, garlic and sugar into skillet. Return chicken to pan and simmer 3 minutes. Turn chicken over, and continue cooking until fork tender (2-3 minutes)
Serve over cooked rice.
Serve with Baked Asparagus with Balsamic Butter Sauce – I got this recipe from Marci's blog and it is YUMMY!
Ingredients:
1 bunch fresh asparagus
cooking spray
salt and pepper to taste
2 T. butter (We use I Can't Believe It's Not Butter)
1 T. soy sauce
1 t. Balsamic vinegar
Directions:
Preheat oven to 400 degrees. Snap ends off of washed asparagus and place on baking sheet. Coat with cooking spray and season with salt and pepper. Bake for 12 minutes or until tender. Melt the butter in a sauce pan or in the microwave. Stir in soy sauce and Balsamic vinegar. Pour over baked asparagus and serve.
WEDNESDAY:  Slow Cooker Chile Colorado burritos
THURSDAY:  Steak stroganoff (slow cooker) – My family LOVES this recipe!!
Ingredients:
2T flour
1/2 tsp Garlic powder
1/2 tsp pepper
1/2 tsp paprika
1 3/4 lb. boneless round steak
2 cans 10 3/4 oz cream of mushroom soup (I use 98% FF)
2 c. water (or 1 can 100% FF beef broth for more flavor)
1 envelope beef stew mix
4 oz can mushrooms, sliced and drained
1/2 c. sour cream
1 T minced parsley
Combine flour, garlic powder, pepper, and paprika in slow cooker. Cut meat into 1 1/2 inch strips. Place in flour mixture and toss until meat is well coated. Add soup, water, and stew mix. Stir until well blended. Cover and cook on low 6-7 hours. Stir in mushrooms, sour cream, and parsley and then cook on high 10-15 minutes until heated through. Serve over egg noodles. (Depending on the consistency of the sauce, you may need to add cornstarch to thicken or add more water/broth to thin)
To freeze: Pour into gallon freezer bags (I used Ziploc containers for this one). Allow to cool before freezing.
To reheat: Thaw in refrigerator overnight. Warm on stove and serve over rice or egg noodles. (Add sour cream when warming if you left it out of the initial recipe)
Friday and Saturday are up in the air at this point because I'll be watching my sister's three kids while they go on an anniversary getaway!
*This post may contain affiliate links. Please refer to my disclosure policy for more information