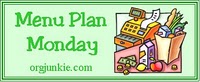 This week I'm headed to a blogging conference in Atlanta, so I'm cooking the first part of the week and I tried to pick easy meals for my husband to prepare for the rest of the week!
If you're new to menu planning or would like tips for getting started, check out this post here–> Tips for menu planning
You can also view hundreds of meal plans each week at Orgjunkie.com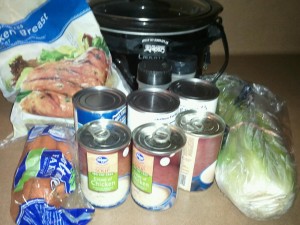 SUNDAY:  Creamy Chicken Noodle soup – My kids and I have been sick, so chicken noodle soup sounded perfect and I love this recipe because you can put everything (including the noodles at the end) into the slow cooker, so there's minimal effort involved!  I've even got leftovers to take for lunch today!
MONDAY:  Stacked green enchiladas – This is a modified version of a recipe my dad makes
Ingredients:
1 can green enchilada sauce
1 can cream of chicken soup (I use 98% FF)
1 can Rotel (drained)
3-4 chicken breasts
corn tortillas (one dozen)
monterrey jack cheese
I place the chicken breasts, enchilada sauce, cream of chicken soup, and Rotel in the crockpot on low all day. When I get home, I shred the chicken and add it back to the mixture. Then, you can either do stacked enchiladas (pour some of the mixture on a corn tortilla/add cheese and repeat for as many layers as you would like) or do rolled enchiladas (place some of the mixture in the corn tortilla, roll, and place in a pan….repeat 9 times…then, pour the remaining sauce mixture over the top and top with cheese and bake at 350 for 20-30 minutes).
TUESDAY:  Steak stroganoff (slow cooker) – My family LOVES this recipe!!
Ingredients:
2T flour
1/2 tsp Garlic powder
1/2 tsp pepper
1/2 tsp paprika
1 3/4 lb. boneless round steak
2 cans 10 3/4 oz cream of mushroom soup (I use 98% FF)
2 c. water (or 1 can 100% FF beef broth for more flavor)
1 envelope beef stew mix
4 oz can mushrooms, sliced and drained
1/2 c. sour cream
1 T minced parsley
Combine flour, garlic powder, pepper, and paprika in slow cooker. Cut meat into 1 1/2 inch strips. Place in flour mixture and toss until meat is well coated. Add soup, water, and stew mix. Stir until well blended. Cover and cook on low 6-7 hours. Stir in mushrooms, sour cream, and parsley and then cook on high 10-15 minutes until heated through. Serve over egg noodles. (Depending on the consistency of the sauce, you may need to add cornstarch to thicken or add more water/broth to thin)
To freeze: Pour into gallon freezer bags (I used Ziploc containers for this one). Allow to cool before freezing.
To reheat: Thaw in refrigerator overnight. Warm on stove and serve over rice or egg noodles. (Add sour cream when warming if you left it out of the initial recipe)
WEDNESDAY:  Eat out – We'll have to grab something to eat on the way to the airport
THURSDAY:  Hot dogs
FRIDAY:  Macaroni and cheese
SATURDAY:  Pizza – we have gift cards!