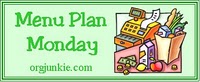 After being gone so much this summer, last week was my first FULL week of cooking in a long time and I managed to keep on track!  This week I'm keeping it simple again and filling our menu with lots of slow cooker favorites and family favorites!
If you're new to menu planning or would like tips for getting started, check out this post here.  You can also view hundreds of meal plans each week at Orgjunkie.com
SUNDAY:  Creamy chicken noodle soup (slow cooker) – My daughter has had strep and I've been sick, too, so this was perfect for us!  Plus, it's so easy to make when you throw all of the ingredients into the slow cooker!
MONDAY:  Crockpot chicken and rice – I came up with this recipe after experimenting a bit and couldn't come up with a more original name.  It's yummy and easy to make!
Ingredients:
2-3 frozen chicken breasts
1 pkg McCormick Zesty Herb chicken seasoning blend (sometimes I substitute the Good Seasonings Italian dressing blend if I have it on hand)
1 can cream of chicken soup
2 c. hot cooked rice
Grated cheese
Tomatoes
Celery
Bell peppers
Place frozen chicken breasts in the bottom of the crockpot. Mix ingredients for McCormick seasoningaccording to directions on the packet and pour over the top of chicken. Cook on low for five hours. Shred chicken in crock pot using a knife and fork. Add cream of chicken soup. Let cook for one more hour. Service over rice with additional toppings as desired (we add cheese, celery, tomatoes, bell peppers, etc. depending on what we have on hand).
TUESDAY:  Sweet potato foil pack tacos ~ I found this recipe on Marci's blog.  My family was skeptical the first time we tried these, but once they actually tasted them, they were a hit, even with my kids! (and that's not an easy feat!)  I love this recipe because it's low maintenance and yummy!
Ingredients:
1/2 lb ground beef or turkey
2-3 T taco seasoning
1/2 cup tomato sauce (4 ounces)
1 can black, kidney, or pinto beans, drained (I used black)
2-3 medium sweet potatoes, peeled and cut into 1/2-inch cubes (about 6 cups total)
2 T butter
salt
1 1/2 cups chopped fresh spinach
1 1/2 cups shredded cheddar cheese
sour cream, salsa, and/or guacamole for garnish
6 12-inch long pieces of aluminum foil
Directions:
Preheat oven to 425 degrees F.
Brown ground meat in a skillet over medium-high heat. Stir in taco seasoning, tomato sauce, and beans. Set aside.
To assemble packets, spray the foil with non-stick spray. Place 1 cup sweet potato cubes in the center of each piece. Top with a small piece of butter (about 1 tsp) and a pinch or two of salt. Sprinkle some chopped spinach over the sweet potatoes, followed by about 1/3 cup of taco meat and sprinkle of cheese. Fold the sides in, then bring the top and bottom ends of the foil together in the center and fold, sealing the packet.
Repeat with remaining ingredients, placing the packets on a rimmed cookie sheet. Bake for 25-30 minutes until the sweet potatoes are tender.
Serve with sour cream, salsa, and/or guacamole.  Makes 6 servings.
WEDNESDAY:  Weight Watchers Pizza Pasta Casserole – I found this recipe on Pinterest and we loved it!  This comes to you courtesy of Recipe Diaries.  It's just 6 points per serving!
Ingredients:
1 lb ground lean turkey sausage
1 medium onion , chopped
1 clove garlic , minced
1 teaspoon italian seasoning
2 teaspoons olive oil
1 (26 ounce) jars spaghetti sauce
8 ounces rotini pasta , cooked and drained
2 cups shredded reduced fat mozzarella cheese (20 oz)
32 slices of turkey pepperoni
Brown ground beef, onion, garlic and seasoning in oil.  Stir in pasta, spaghetti sauce and 2 cups cheese.  Place mixture in 2 greased 9x13x2 inch baking pans or 4 square pans.  Sprinkle with remaining mozzarella.  Top with pepperoni.  Bake uncovered at 350 degrees for 25-30 minutes, until heated through.
THURSDAY:  Melt in your Mouth Meatloaf (slow cooker)  – Yes, I know. It's meatloaf.  But, it's also one of my family's FAVORITE meals.  I promise!
FRIDAY:  Peppered steak – this is a family recipe that came from my mother in law.  We all love it!
Ingredients:
3 cups hot cooked rice
1 lb lean beef round steak (cut into 1/2 inch thick strips)
1 T Paprika
2 T butter
2 cloves garlic, crushed
1 1/2 c. beef broth
1 cup sliced green onions
2 green peppers, cut in strips
2T cornstarch
1/4 c. water
1/4 c. soy sauce
2 lg tomatoes (cut in eighths)
Pound steak to 1/4 inch thick. Cut into 1/4 inch wide strips. Sprinkle meat with paprika. Let stand. Brown meat in butter. Add garlic and brother. Cover and simmer for 30 minutes. Stir in onions and green peppers. Cover and cook 5 minutes. Blend cornstarch, water and soy sauce. Stir into meat mixture. Cook, stirring until clear and thickened, about 2 minutes. Add tomatoes and stir gently. Serve over beds of fluffy rice.
WW points = 7 points/serving  (add an additional 3 points for 1/2 cup rice and 5 points for 1 cup rice), this makes 4 servings.
SATURDAY:  Rice meatballs – This is another recipe from my mother in law that our family loves!
Ingredients:
1 cup uncooked minute rice
1 lb ground beef (I use 93/7)
1 egg, slightly beaten
2 t. grated onion
2 t. salt (I cut this in half)
1/8 t marjoram
dash pepper
2 1/2 cups tomato juice (or two 8 oz cans tomato sauce mixed with 1/2 cup water)
1/2 t sugar
Combine rice and all other ingredients except tomato juice and sugar. Form balls and arrange in skillet. Pour tomato juice & sugar over meatballs. Bring to boil. Reduce heat & simmer uncovered 15 minutes.
WW points = 7 points per serving
*This post may contain affiliate links. Please refer to my disclosure