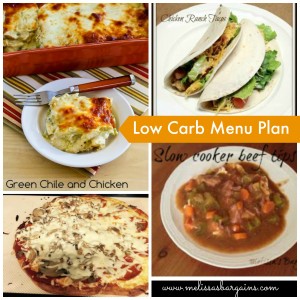 We survived our first four weeks on a low carb menu although I did let my kids cheat a little bit this weekend and have some Halloween candy.  We're back on track today and all of the Halloween candy is disappearing!  I have discovered that the key is to involve your kids in the menu planning and to choose some of their favorites.  Here's this week's  Low Carb Menu Plan for Families.
Check out our previous menus below:
Kid Friendly Low Carb Menu Plan Week #1
Kid Friendly Low Carb Menu Plan Week #2
Kid Friendly Low Carb Menu Plan Week #3
Kid Friendly Low Carb Menu Plan Week #4
See my menu plans from previous weeks here–> Menu Planning Monday
You can also view hundreds of meal plans each week at Orgjunkie.com
Do you like what you see here?  Make sure you also check out my favorite recipes board on Pinterest–> Melissa's Bargains favorite recipes on Pinterest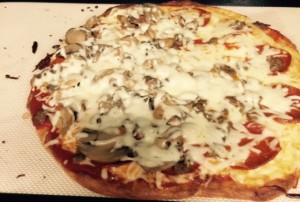 SUNDAY:  Low Carb Pizza – One of the things my kids LOVE is pizza.  I discovered a low carb pizza dough recipe that has been an absolute LIFESAVER for us!  I tried a different low carb pizza dough recipe a few weeks ago and while we enjoyed it, I feel like the almond flour in this recipe really made it seem more dough like.  This has become our Sunday night tradition!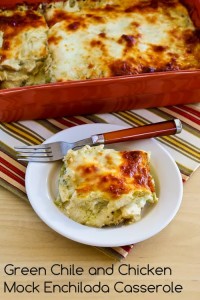 MONDAY:  Green Chile and Chicken Mock Enchilada Casserole – My family LOVES enchiladas and I wasn't sure how we were going to survive without them when we started our low carb diet.  This recipe from Kalyn's Kitchen was one of the first that we tried and it was a huge hit!  I am experimenting to switch it up a bit this week, and I will keep you posted!
TUESDAY:  Taco Tuesday – Tuesday nights are busy with football practice and swimming, so they've become "Taco Tuesday"  I cook pre seasoned fajitas or ground beef and we have tacos on low carb tortillas.  Depending on my carb count for the day, sometimes I have taco salad instead!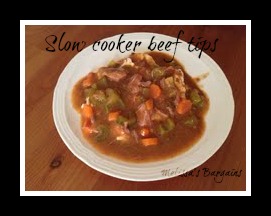 WEDNESDAY:  Slow Cooker Beef Tips – I'm modifying my slow cooker beef tips recipe and serving it with cauliflower 'mashed potatoes.  YUMMY!
THURSDAY:  Sausage and sauerkraut – Keeping it easy tonight since it's another busy night!
FRIDAY:  Chicken alfredo with spaghetti squash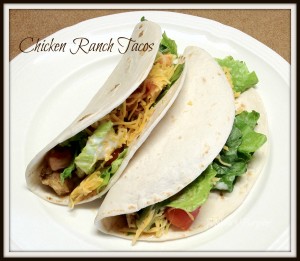 SATURDAY:  Chicken Taco Salad – Tonight I'm going to use my Slow Cooker Chicken Ranch Tacos recipe to make chicken taco salad!