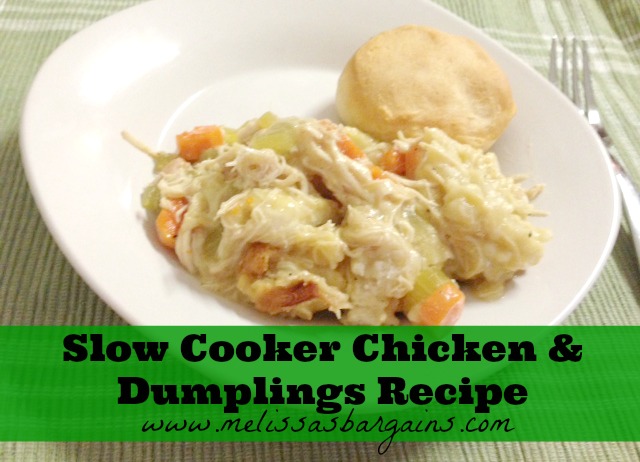 I've been making this recipe for years now, but hadn't made it in awhile.  It's a family favorite and easy to throw together!  It's yummy comfort food!
See more of my favorite recipes here–> Melissa's Bargains Favorite Recipes on Pinterest
Slow Cooker Chicken and Dumplings Recipe
Prep time:
Cook time:
Total time:
Easy slow cooker chicken and dumplings Recipe – comfort food!
Ingredients
2-3 boneless, skinless chicken breasts
3 carrots, peeled and sliced
3 celery stalks, sliced
1 can chicken broth (I use 100% fat free)
1 can cream of chicken soup (I use 98% fat free)
1 can refrigerated biscuits (I use Grands Homestyle, reduced fat)
Salt, pepper, onion powder, garlic powder (to taste)
Instructions
Place chicken breasts, carrots, and celery in the bottom of your slow cooker. Season with salt, pepper, garlic powder, onion powder, and any other seasonings that you choose.
Cover with the chicken broth and cream of chicken soup. NOTE: If you are using frozen chicken breasts, you may want to use less broth.
Cook on low for 6 hours or high for 2-3 hours.
Shred the chicken breasts.
Tear the biscuits and add them into the mixture. Cook on high for 60-90 minutes until the biscuits are thoroughly cooked.