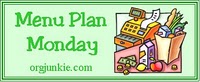 I'm really trying to focus on "healthy eating" again and also planning out breakfasts and lunches, too.  I find that if I have a "plan" it's easier to stick with it!  There are lots of quick and easy recipes once again this week.
The plan listed here just includes our dinner menu and recipes. I have calculated someWeight Watchers points values using the e-tools Recipe Builder, and points values this week are based on the new Points Plus program! (I will update with points values on the others as we have the meals)
If you've been reading my blog for awhile, then you know that for the past two years, I have done a $40 weekly budget. With the changes to our eating habits and the end of grocery stores in our area doubling and tripling coupons, I'm still experimenting to try to figure out what a reasonable budget is.  Stay tuned!
If you're new to menu planning or would like tips for getting started, check out this post here.  You can also view hundreds of meal plans each week at Orgjunkie.com
SUNDAY:
Breakfast – scrambled eggs and cheese
Lunch – Baked chicken nuggets
Dinner –Chicken tortilla soup (slow cooker) – if you haven't tried this one yet, it's one of my family's FAVORITES!
MONDAY:
Breakfast – Fruit & yogurt parfait
Lunch – Turkey and cheese wraps (with whole wheat tortillas)
Dinner – French dip sandwiches (slow cooker) – This is another family favorite!
TUESDAY:
Breakfast – Peanut butter and bananas on whole wheat toast
Lunch – Cheese sandwich on whole wheat bread for the kids (salad for me)
Dinner – Tacos (with whole wheat tortillas)
WEDNESDAY:
Breakfast – Fruit smoothie (made with skim milk and peaches)
Lunch – Homemade "Lunchables" with Wheat Thins for the kids (salad for me)
Dinner – Weight Watchers Pizza Pasta Casserole – I found this recipe on Pinterest and was so excited to try it!  This comes to you courtesy of Recipe Diaries.  It's just 6 points per serving!  This was a HIT and the kids had fun helping me make it.  Pictures and a full review will be coming to you later this week!
Ingredients:
1 lb ground lean turkey sausage
1 medium onion , chopped
1 clove garlic , minced
1 teaspoon italian seasoning
2 teaspoons olive oil
1 (26 ounce) jars spaghetti sauce
8 ounces rotini pasta , cooked and drained
2 cups shredded reduced fat mozzarella cheese (20 oz)
32 slices of turkey pepperoni
Brown ground beef, onion, garlic and seasoning in oil.  Stir in pasta, spaghetti sauce and 2 cups cheese.  Place mixture in 2 greased 9x13x2 inch baking pans or 4 square pans.  Sprinkle with remaining mozzarella.  Top with pepperoni.  Bake uncovered at 350 degrees for 25-30 minutes, until heated through.
THURSDAY:
Breakfast – Oatmeal
Lunch – Egg salad
Dinner – Stacked green enchiladas – This is a modified version of a recipe my dad makes
Ingredients:
1 can green enchilada sauce
1 can cream of chicken soup (I use 98% FF)
1 can Rotel (drained)
3-4 chicken breasts
corn tortillas (one dozen)
monterrey jack cheese
I place the chicken breasts, enchilada sauce, cream of chicken soup, and Rotel in the crockpot on low all day. When I get home, I shred the chicken and add it back to the mixture. Then, you can either do stacked enchiladas (pour some of the mixture on a corn tortilla/add cheese and repeat for as many layers as you would like) or do rolled enchiladas (place some of the mixture in the corn tortilla, roll, and place in a pan….repeat 9 times…then, pour the remaining sauce mixture over the top and top with cheese and bake at 350 for 20-30 minutes).
FRIDAY:
Breakfast – Fruit & yogurt parfaits
Lunch – Peanut butter and bananas on whole wheat toast
Dinner – Melt in your mouth meatloaf (slow cooker) – Don't knock it until you try it!  Seriously, my family LOVES this one!
SATURDAY:
Breakfast – Whole wheat blueberry pancakes
Lunch – Grilled cheese roll-ups and tomato soup
Dinner – Peppered Steak – this is a family recipe that came from my mother in law
Ingredients:
3 cups hot cooked rice
1 lb lean beef round steak (cut into 1/2 inch thick strips)
1 T Paprika
2 T butter
2 cloves garlic, crushed
1 1/2 c. beef broth
1 cup sliced green onions
2 green peppers, cut in strips
2T cornstarch
1/4 c. water
1/4 c. soy sauce
2 lg tomatoes (cut in eighths)
Pound steak to 1/4 inch thick. Cut into 1/4 inch wide strips. Sprinkle meat with paprika. Let stand. Brown meat in butter. Add garlic and brother. Cover and simmer for 30 minutes. Stir in onions and green peppers. Cover and cook 5 minutes. Blend cornstarch, water and soy sauce. Stir into meat mixture. Cook, stirring until clear and thickened, about 2 minutes. Add tomatoes and stir gently. Serve over beds of fluffy rice.
WW points = 7 per serving (makes 4 servings); add 5 points for 1 cup rice or 3 points for 1/2 cup rice
*This post may contain affiliate links. Please refer to my disclosure policy for more information