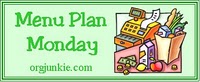 We have now gone two weeks without eating out AT ALL!  I love that we're saving money and having dinner together as a family, too!  This week, the bonus challenge for the weight loss group that I belong to is to not eat out all week, so I'm hoping I'll go another week without eating out!
If you're new to menu planning or would like tips for getting started, check out this post here–> Tips for menu planning
You can also view hundreds of meal plans each week at Orgjunkie.com
SUNDAY:  BBQ hot dogs and pasta salad
MONDAY:  Chicken enchilada casserole –  This is a recipe that my sister came up with. She uses canned chicken when she makes it. I usually cook my chicken in the slow cooker, but this week I actually have some leftover chicken from chicken ranch tacos, so I'm using that.
Ingredients:
2 chicken breasts (shredded) – or 1 can chicken
1 large can red enchilada sauce
corn tortillas
shredded cheese – I use reduced fat
Directions: (this is what I do) – I put my chicken and the enchilada sauce in the crockpot the night before and then shred it when I get up in the morning. If you are using canned chicken, you can just shred it as you are making the casserole. I spread some of the chicken/sauce mixture along the bottom of the casserole dish so it doesn't stick. Break corn tortillas into four pieces and layer across the bottom of the casserole dish. Spread a layer of the chicken/sauce mixture and cheese. Add another layer of corn tortillas. Continue until you are out of the chicken/sauce mixture. Bake at 350 degrees for 25-30 minutes until the cheese is bubbly.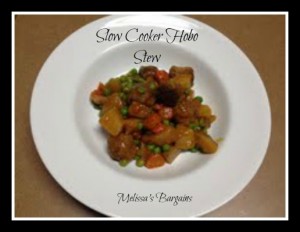 TUESDAY:  Hobo Stew – This is an easy slow cooker recipe.  It's like beef stew but with meatballs!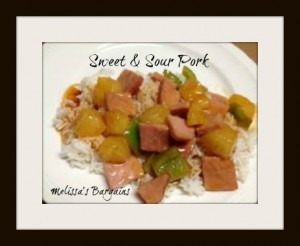 WEDNESDAY:  Easy Sweet & Sour pork recipe – This is a recipe from my mother in law.  It's quick and easy to make and kid friendly, too!
THURSDAY:  Melt in Your Mouth Meatloaf – This is a favorite recipe in my house and I love it because you can just dump it in the slow cooker and let it cook all day!
FRIDAY:  Oven Tacos – My family loves tacos, and I'm always looking for new recipes to try.  I found this one on Pinterest a few weeks ago and can't wait to try it!
SATURDAY:  Slow Cooker Lasagne – I've had this on my "to try" list for awhile, and since I'm off work today, I figured it would be a good day to try it!
See my menu plans from previous weeks here–> Menu Planning Monday
Looking for more quick fix menu ideas? Sign up for Ready, Set, Eat by clicking on the image below! It's completely free and you'll get recipe ideas delivered to you by e-mail!
*This post may contain affiliate links. Please refer to my disclosure policy for more information.