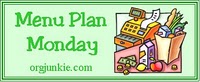 We have now gone three weeks without eating out!  I love that we're saving money and having dinner together as a family, too!  What's amazing is that now that we are eating at home more, we're realizing that we really haven't missed eating out!  The highlight of eating at home for me was when my 5 year old who ordinarily hates and resists veggies asked for more!
If you're new to menu planning or would like tips for getting started, check out this post here–> Tips for menu planning
You can also view hundreds of meal plans each week at Orgjunkie.com
SUNDAY:  Hawaiian Chicken – I saw this recipe on Pinterest and wanted to try something different.  We like things "saucy" around here and so I was a bit disappointed in that respect.  Plus, I used frozen chicken breasts when I made this, which left it kind of watered down.  Next time, I will probably use fresh chicken breasts and double the recipe for the sauce!
MONDAY: Melt in Your Mouth chicken – I have been seeing this recipe all over Pinterest and figured it was worth checking out!  I'll be serving it with Roasted Parmesan Asparagus and a salad.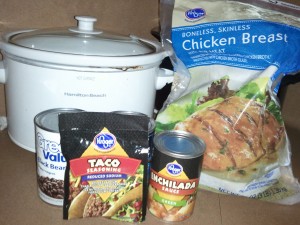 TUESDAY:  Black Bean & Chicken burritos – When I use my slow cooker, I love quick fix "dump and go" recipes because I never have enough time in the mornings!  Prep time on this one is about 2 minutes…seriously!
WEDNESDAY:  Slow Cooker Beef & Broccoli – I've had this one pinned for awhile, but I wasn't sure how my non-broccoli eaters would feel about it.  I'm testing it out this week and I'll let you know!
THURSDAY:  Baked Ravioli – I always make something "red" for Valentine's Day.  This year is a bit of a challenge because my daughter has choir practice right after school and we won't be home until 6.  We've tried this recipe once before and it was quick and easy to throw together and everyone loved it, too.
FRIDAY:  French dip sandwiches – I enlist my family's help with recipe suggestions each week when I'm making my menu plan and this was my daughter's pick this week.  I figured it would be perfect for a Friday because I never have much energy left by the end of the week!  This is another easy "dump and go" recipe!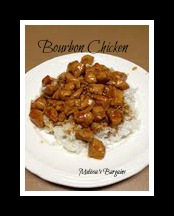 SATURDAY:  Bourbon Chicken – I discovered this recipe a few years ago and it's still a hit every time I make it!
See my menu plans from previous weeks here–> Menu Planning Monday
Looking for more quick fix menu ideas? Sign up for Ready, Set, Eat by clicking on the image below! It's completely free and you'll get recipe ideas delivered to you by e-mail!
*This post may contain affiliate links. Please refer to my disclosure policy for more information.