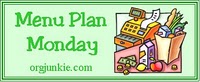 I'm trying to stay on track with menu planning.  There are lots of quick and easy slow cooker recipes once again this week.
The plan listed here just includes our dinner menu and recipes. I have calculated someWeight Watchers points values using the e-tools Recipe Builder, and points values this week are based on the new Points Plus program! (I will update with points values on the others as we have the meals)
If you've been reading my blog for awhile, then you know that for the past two years, I have done a $40 weekly budget. With the changes to our eating habits and the end of grocery stores in our area doubling and tripling coupons, I'm still experimenting to try to figure out what a reasonable budget is.  Stay tuned!
If you're new to menu planning or would like tips for getting started, check out this post here.  You can also view hundreds of meal plans each week at Orgjunkie.com
SUNDAY:  Country Ham and Macaroni Casserole – A favorite with my kids! (and no, we don't eat this every week, although my kids would love it if we did…it just kept getting pushed back!)
Ingredients:
1 lb country ham slices or regular smoked ham in one piece (I just use whatever leftover ham we have on hand)
1 large onion, diced
1 lb elbow macaroni (whole wheat)
2 cups shredded extra sharp cheddar cheese (8 oz) – I use reduced fat
1 cup sour cream (I use reduced fat)
1 can cream of chicken soup (I use 98% fat free)
1/4 cup (1/2 stick) margarine, melted (I don't use this when I make it)
1 cup dry plain bread crumbs
1. Heat oven to 400º.
2. Bring 4 quarts water and ham to boiling in large pot. Once water begins to boil,
remove ham to a plate. Add onion and macaroni to pot. Return water to boiling; cook 8 minutes, stirring occasionally.
3. Coarsely chop ham, discarding any fat and bones.
4. Drain macaroni and onion and return to pot. Add ham, cheese, sour cream and soup. Scrape into a 13x9x2 baking dish. Pour melted margarine over top. Sprinkle with bread crumbs.
5. Bake in heated 400º oven 30 minutes or until heated through and top is golden brown.
Let stand 5 minutes before serving.
Note: Prepare in two 8×8 casserole dishes, bake one and freeze one (unbaked) for another day. If freezing, top with crumbs and margarine right before baking.
WW points = 9 points per serving (with modifications above), makes 6 servings
MONDAY:  Beef tips (slow cooker) – I found this recipe in Taste of Home Magazine. I haven't tried it before, but it looked and sound good, and it's in the slow cooker, so it's a hit with me already!
Ingredients:
1 beef top sirloin steak (1 pound), cut into 1-inch cubes
2 to 3 medium carrots, chopped
1 to 1-1/2 cups chopped celery
1 cup chopped onion
1 can (10-3/4 ounces) condensed golden mushroom soup, undiluted
1/2 to 1 cup white wine or beef broth
2 teaspoons cornstarch
1/4 cup cold water
Hot cooked egg noodles
Directions:
In a 3-qt. slow cooker, combine the beef, carrots, celery, onion, soup and wine or broth. Cover and cook on low for 6-7 hours or until meat is tender.
Combine cornstarch and water until smooth; gradually stir into cooking juices. Cover and cook on high for 15 minutes or until thickened. Serve with noodles. Yield: 4 servings.
TUESDAY:  Lasagne  – I always do a "red" foods theme on Valentine's Day!  This comes straight from the package on the back of the Barilla no-cook noodles (and if you haven't tried those yet, you really should!)  Dessert is cheesecake for my husband because he loves it!
Philadelphia 3 step cheesecake
Ingredients:
2 packages (8 ounces each) Philadelphia Cream Cheese (I use the 1/3 less fat and it works fine)
1/2 cup sugar
1/2 tsp vanilla
2 eggs
1 T fresh lemon juice
1/2 tsp grated lemon peel
1 Honey Maid graham cracker pie crust
Beat cream cheese, sugar, and vanilla with electric mixer on medium speed until well blended. Add eggs, 1 at a time, mixing on low speed after each addition just until blended. Stir in fresh lemon juice and grated lemon peel. Pour into crust. Bake at 350 degrees for 40 minutes or until center is almost set. Cool and refrigerate 3 hours (or overnight). I add a can of cherry pie filling on top.
WEDNESDAY:  Peppered Steak – this is a family recipe that came from my mother in law
Ingredients:
3 cups hot cooked rice
1 lb lean beef round steak (cut into 1/2 inch thick strips)
1 T Paprika
2 T butter
2 cloves garlic, crushed
1 1/2 c. beef broth
1 cup sliced green onions
2 green peppers, cut in strips
2T cornstarch
1/4 c. water
1/4 c. soy sauce
2 lg tomatoes (cut in eighths)
Pound steak to 1/4 inch thick. Cut into 1/4 inch wide strips. Sprinkle meat with paprika. Let stand. Brown meat in butter. Add garlic and brother. Cover and simmer for 30 minutes. Stir in onions and green peppers. Cover and cook 5 minutes. Blend cornstarch, water and soy sauce. Stir into meat mixture. Cook, stirring until clear and thickened, about 2 minutes. Add tomatoes and stir gently. Serve over beds of fluffy rice.
WW points = 7 per serving (makes 4 servings); add 5 points for 1 cup rice or 3 points for 1/2 cup rice
THURSDAY:  Tacos
FRIDAY:  Chili (slow cooker) – this is a "dump and go" recipe and SO easy to make!!  By the end of the week I'm worn out, so this will be perfect!
Ingredients:
1 lb ground beef (brown in skillet and then place in crockpot)
1 can dark kidney beans (drained and rinsed)
1 can Ranch style beans
1 can diced tomatoes
1 can crushed tomatoes
1 packet chili spices
Mix all ingredients in crockpot and cook on high for 5 hours or low for 8 hours. Sprinkle cheese on top.
WW points = 7 points per serving (6-8 servings) – cheese and any additional toppings are "extra"
SATURDAY:  Crockpot chicken and rice – I came up with this recipe after experimenting a bit and couldn't come up with a more original name.  It's yummy and easy to make!
Ingredients:
2-3 frozen chicken breasts
1 pkg McCormick Zesty Herb chicken seasoning blend (sometimes I substitute the Good Seasonings Italian dressing blend if I have it on hand)
1 can cream of chicken soup
2 c. hot cooked rice
Grated cheese
Tomatoes
Celery
Bell peppers
Place frozen chicken breasts in the bottom of the crockpot. Mix ingredients for McCormick seasoning according to directions on the packet and pour over the top of chicken. Cook on low for five hours. Shred chicken in crock pot using a knife and fork. Add cream of chicken soup. Let cook for one more hour. Service over rice with additional toppings as desired (we add cheese, celery, tomatoes, bell peppers, etc. depending on what we have on hand).