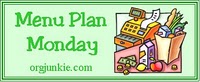 Now that I'm getting back into the routine of cooking again, I can actually say that I'm enjoying it and that I'm loving trying out new recipes, too.  One thing that really helped me this month is that I made a monthly menu plan instead of trying to go week by week.  It's really helped me to have a "big picture" for the month and it's been easy to make adjustments along the way.
This week is another busy week for our family, so we've got lots of quick fix and slow cooker meals!
If you're new to menu planning or would like tips for getting started, check out this post here–> Tips for menu planning
You can also view hundreds of meal plans each week at Orgjunkie.com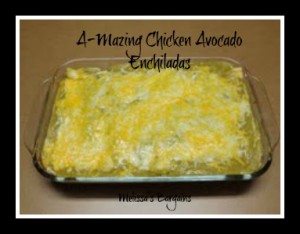 SUNDAY: A-Mazing Chicken Avocado Enchiladas – I had pinned this recipe on Pinterest several months ago and finally got around to making it. I made some modifications to make it more "family friendly" for my family. Both of my kids loved it and asked for seconds. My 5 year old said it was "the bestest meal ever."
MONDAY: Melt in Your Mouth Meatloaf (slow cooker)- This is another family favorite that is super easy to make!  We have swimming lessons and a soccer game tonight, so this will be perfect because it will be ready to eat right when we get home from school and work!
TUESDAY:  Chicken enchilada casserole – This is a recipe that my sister came up with. She uses canned chicken when she makes it. I came up with a little bit of a variation.  It is so easy and kid friendly, too!
Ingredients:
2-3 chicken breasts (shredded) – or 1 can chicken
1 large can red enchilada sauce
corn tortillas
shredded cheese – I use reduced fat
Directions: (this is what I do) – I put my chicken and the enchilada sauce in the crockpot the night before and then shred it when I get up in the morning. If you are using canned chicken, you can just shred it as you are making the casserole. I spread some of the chicken/sauce mixture along the bottom of the casserole dish so it doesn't stick. Break corn tortillas into four pieces and layer across the bottom of the casserole dish. Spread a layer of the chicken/sauce mixture and cheese. Add another layer of corn tortillas. Continue until you are out of the chicken/sauce mixture. Bake at 350 degrees for 25-30 minutes until the cheese is bubbly.
WEDNESDAY:  
Creamy beef over noodles
– This recipe is from the 
"A Year of Slow Cooking" blog
 and I tried it a few years ago and we enjoyed it.  I've been looking for quick and easy slow cooker recipes and decided to try this one again!Ingredients:
–2 lbs stew meat
–2 T butter
–1/4 cup soy milk
–1 T gluten free worcestershire sauce
–1 T black pepper
–2 T dried minced onion
–1/4 cup beef broth
–1/2 t kosher salt
–1 t herbs de provence
–1/2 block of cream cheesePlace the frozen meat into the crockpot. Add all other ingredients (with the exception of the cream cheese). Cook on low for 10-12 hours. Add in cream cheese and mix. Serve over rice or pasta.
Photo credit:  Beth's Favorite Recipes
THURSDAY:  Monterey Chicken – This recipe is so yummy and it's so easy to make, too!
Ingredients:
4 (5 oz.) Boneless Skinless Chicken Breasts1/4 Cup Barbecue Sauce
1/4 Cup Hormel Real Bacon Bits
1 Cup 2% Colby and Monterey Jack Shredded Cheese*
1 (14 oz.) Can Diced Tomatoes with Green Chilies, drained (I'm just going to use regular diced tomatoes)
Sliced Green Onions
Pepper
Preheat oven to 400 degrees. Pound out the chicken breasts to flatten. Season each with a little pepper. Cook the chicken in a skillet sprayed with non-stick cooking spray over medium-low heat until no longer pink.
Place each breast onto a baking sheet and top each breast with 1 tablespoon of barbeque sauce, 1/4 cup cheese, 1/4 cup tomatoes, green onions and 1 tablespoon of bacon bits. Place into the oven and bake until the cheese has melted (about 5 minutes).
Per Serving: 263 Calories; 8g Fat (29.0% calories from fat); 39g Protein; 6g Carbohydrate; 1g Dietary Fiber; 108mg Cholesterol; 840mg Sodium. Exchanges: 4 1/2 Lean Meat; 0 Other Carbohydrates.
WW points = 6 points per serving
FRIDAY:   Peppered Steak – This is a family recipe that came from my mother in law and we all love it!
Ingredients:
3 cups hot cooked rice
1 lb lean beef round steak (cut into 1/2 inch thick strips)
1 T Paprika
2 T butter
2 cloves garlic, crushed
1 1/2 c. beef broth
1 cup sliced green onions
2 green peppers, cut in strips
2T cornstarch
1/4 c. water
1/4 c. soy sauce
2 lg tomatoes (cut in eighths)
Pound steak to 1/4 inch thick. Cut into 1/4 inch wide strips. Sprinkle meat with paprika. Let stand.Brown meat in butter. Add garlic and brother. Cover and simmer for 30 minutes. Stir in onions and green peppers. Cover and cook 5 minutes. Blend cornstarch, water and soy sauce. Stir into meat mixture. Cook, stirring until clear and thickened, about 2 minutes. Add tomatoes and stir gently. Serve over beds of fluffy rice.
SATURDAY:  Forgotten Chicken – I found this recipe on Darling Doodles while ago and have been meaning to try it.  I love that it's quick and easy to throw together.  I will be substituting an Italian seasoning mix for the French Onion soup mix because I don't like onions!
See my menu plans from previous weeks here–> Menu Planning Monday
Looking for more quick fix menu ideas? Sign up for Ready, Set, Eat by clicking on the image below! It's completely free and you'll get recipe ideas delivered to you by e-mail!
*This post may contain affiliate links. Please refer to my disclosure policy for more information.