Since the new Kroger ad came out on Wednesday, I have been looking forward to shopping the Kroger Mega sale.  The shelf clearers were out in full force at my store today!  All of the Hunt's tomatoes were gone and so was the BBQ sauce (I spotted a lady at the registers with 100 bottles in her cart, so I guess that's why!).  I did manage to score cheap Quaker granola bars, cheap Pepperidge Farm goldfish crackers, and cheap Ro-Tel (which is a stockpile-worthy item if you live in Texas!).
The item that I was most excited about was my All laundry detergent.  I think everyone has their "thing" that they get slightly obsessive about stockpiling and for me, it's laundry detergent. I think I have this fear that some day there won't be coupons or deals and I might have to pay…FULL PRICE!  I got each of these bottles for just $1.75 after coupons, which is definitely a stock up price for me!
Here's the breakdown: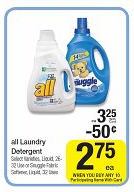 All Laundry Detergent – $2.75 when you buy 10 participating items
$2/2 All Laundry Detergent – 1-6 RP
Final Price = $1.75 each after coupon
See the top Kroger Mega Sale deals here–> Kroger Mega Sale deals
I also took advantage of a Target gift card deal involving Ragu pasta sauce!  You get a $5 Target gift card when you buy 10 participating items and the Ragu pasta sauce was included!  
Here's the breakdown on the deal I did:
Buy 10 Ragu pasta sauce – $1.59 each
-5 $1/2 Ragu pasta sauce coupons – 1-6 SS
–$.60/2 Ragu pasta sauce Target coupon
-$5 Target gift card (earned from Shopkick)
Spend $5.30 out of pocket, get a $5 Target gift card – that's just $.53 per jar!
Rumor has it that this deal will be in the ad that starts tomorrow, so you've still got time to take advantage of this awesome stock up deal!  Make sure you get your FREE $2 Target gift card from Shopkick if you haven't already and plan on taking advantage of this deal!  Get yours here–> Free Target gift card from Shopkick
I also got these 10 tubes of Colgate toothpaste earlier this week at Walmart for just $.50 each!  The regular price is $1.25 each and I used my $.75 coupons (sadly they expire today) to get them for this price!  I have been using free samples of toothpaste from the dentist for the past few weeks, so I knew it was time to replenish our stockpile!
See more Walmart deals here–> Walmart Deals
My total out of pocket for these 30 items was $27.80!  The retail value (based on sale prices for the All detergent and Ragu) was $60.90!
What did YOU add to your stockpile this week?  Find out more about how you can build your stockpile and savings on a budget week by week here–> Starting your stockpile on a budget and my 52 week savings plan 
*This post may contain affiliate links. Please refer to my disclosure policy for more information