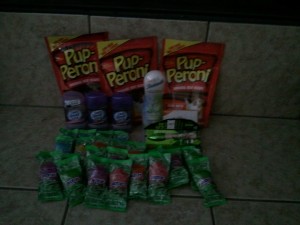 I remember before I really started using coupons, I would hear people talk about all the money they were saving at Walgreens and CVS and I thought they were nuts because to me, drug store prices seemed way higher than places like Target or Walmart.
I made a quick trip to Walgreens and CVS yesterday and after coupons, rebates, ECBs, and RRs, they paid me to buy all of this!
Here's the breakdown:
CVS:
2 Speedstick deodorant – 2/$6
1 Skintimate shave gel – $3.49
1 Physician's Formula mascara – $10.29
1 Trident gum – $1.29
-$5 Physician's formula coupon
-$6 Physician's formula CRT (these are the coupons that print off on the receipt)
-$9.99 ECB
Spent $0 OOP (I know if you do the math, it looks like I should owe $, but for some reason they actually had to adjust my ECB down), earned a $3 ECB, $2.50 ECB, $7 ECB and a $.50 ECB (that was my CVS "quarterly" ECB)
Walgreens:
3 Puperoni – $1.99/each
1 Speedstick – $1.99
31 Snickers eggs – $.29/each
3 $1/1 Puperoni coupons
10 $1/2 Mars coupons
$4 RR
Spent $0 OOP, earned a $2 RR and a $1 RR
Plus, I will get back a $9.99 rebate from the mascara!
If you've been putting off playing the drugstore game, you CAN do it!  I post "newbie" (less than $5 out of pocket) scenarios every week to help you get started.
You can check out my CVS match-ups and scenarios for the week here
You can check out my Walgreens match-ups and scenarios for the week here

*This post may contain affiliate links. Please refer to my disclosure policy for more information.