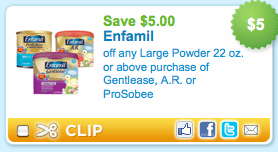 If you've got a little one on formula, I know that the expense QUICKLY adds up!  Here are a few formula deals this week that will hopefully help ease the strain on your wallet.
CVS ~ it's like you're saving $16 after coupons and ECBs!
Buy 2 Enfamil (22.2-23.4 oz), get a $6 ECB (limit 1 per household)
Use 2 $5 printable coupons (use zip 64119)
Final Price = varies (I couldn't find online pricing for formula between 22.2 and 23.4 oz – if you did this deal, let me know!)
NOTE: If you have Enfamil formula checks, you can also use them with this deal!
Walgreens ~
Buy Enfamil Premium Infant Formula Powder (90 oz) – $14.99
Use $5/1 Enfamil printable (says 22 oz+)
Use $2/1 Enfamil coupon from the Walgreens Infant Care booklet – if you don't have the booklet, you can use code 5516
Final Price = $7.99 after coupons!
NOTE: This is based on online pricing – pricing may vary in stores
If you can't find this coupon with your default zip code, check out zip code 64119. Hurry and print yours before it's gone!
*This post may contain affiliate links. Please refer to my disclosure policy for more information