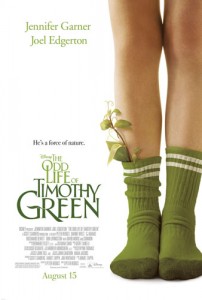 I've been watching the previews for The Odd Life of Timothy Green for weeks now and looking forward to seeing it! I had the opportunity to preview the movie at a screening presented by Disney when I was at the Blogher conference last week and I was not disappointed!
As the movie begins, we meet Jim and Cindy Green who are very much in love and who desperately want to add a child to their family. After being told that they will not be able to conceive a child, they spend an evening thinking about what might have been. They fill a box with all the qualities their child would have had and all of the wonderful moments they would have shared. He would love and be loved. He would "ROCK." He would kick a winning goal at a soccer game. They bury the box and their dreams in the garden in their backyard. Late in the night, a young boy named Timothy appears and simply tells them he came from the garden. Jim and Cindy decide not to question the gift that they've been given and to make the most of every little moment with Timothy.
WARNING: This movie is a tear jerker! Don't forget the Kleenex! Those who have struggled with fertility will be able to identify with Jim and Cindy's emotions. Anyone who is a parent will be able to identify with the struggles that they face during parenthood. You want your child to be accepted and fit in with his peers. You question decisions you've made, always wonder if you're doing what's best for your child, and think about what you could have or should have done different after the fact.
Timothy treasures every moment, even taking time each day to bask in the sunlight. He brings perspective to the adults and peers in his life. Watching this movie led me to reflect on my own children and the magic of childhood in general. It reminded me to take a step back and to treasure those little magical moments that occur on a daily basis because children grow up way too fast!
This is a great movie for families and I can't wait to share it with my own family next week! It will be released in theaters on 8/15/2012.
In the meantime, you can enjoy this free summer fun kit here–> The Odd Life of Timothy Green summer fun kit
Check out the trailer here:
DISCLOSURE: Disney provided me with the opportunity to attend this screening, but all thoughts expressed in this review are my own!