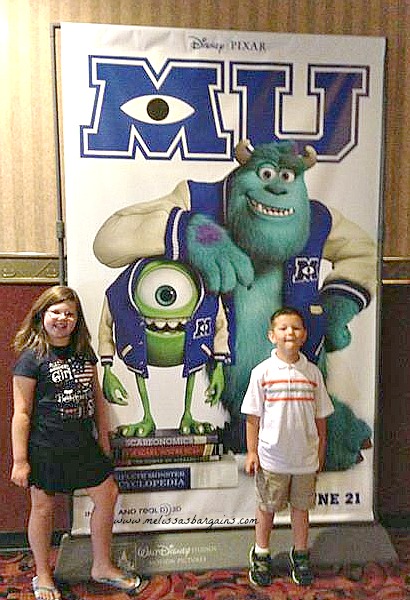 My husband and I went on our first "date" to see Monsters Inc, so it has been a favorite movie in our house through the years.  We have all been looking forward to the release of Monsters University, and ironically the official release date is one day before our 11th wedding anniversary!  One of the benefits of being a blogger is that I get to attend movie screenings before the movies are actually released.  Unfortunately, my husband and son had to stay home because my son got hurt.  My daughter and I LOVED it, though, and I can't wait for us to go again as a family!

The movie starts with young Mike Wazowski (braces and all) on a field trip to see the "Scaring Floor" at Monsters Inc.  From that moment on, his dream was to attend the Scaring School at Monsters University and then become a "scarer" at Monsters Inc.  Fast forward a few years and it looks like his dream is coming true as he arrives at the university!
The movie had a few surprises.  The biggest one for me was that Mike and Sully were actually rivals in the beginning!  Mike's role as the resident "nerd" was not overly surprising, but after seeing Monsters Inc, I was surprised the Sully started out as an arrogant "jock" trying to get by on his family's name!  The two join together after being kicked out of Scaring School.  Their only hope at redemption is to team up with a crew of misfits to try to win the Scare Games.
Kids enjoy the antics of the monsters as they attempt to one up each other and win the competition.  Adults will enjoy it, too, and may also be reminded of some of their own college experiences along the way!  The movie teaches that dreams can come true, but not always in the way that you expect.  Mike gets his job at Monsters Inc, but not in the exact role he was hoping for! It also teaches about teamwork and shows how lasting friendships can come in unexpected ways.
To get your kids ready for the movie, enjoy some of these free activities:
Watch the trailer here:
If you're looking for a deal on tickets, get BOGO free tickets from Fandango–> 
Fandango BOGO free movie tickets