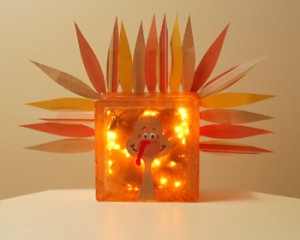 I love ice block crafts.  I have made Christmas ones and a few for every day display, but I never thought of doing one for Thanksgiving.  As I packed-up the Halloween decor today, I realized I basically have no Thanksgiving decorations.  This glass block turkey will be perfect for my mantel.
Back when I first started making glass block displays, they didn't sell the blocks in craft stores.  You had to buy them at a home improvement store and drill a hole in the bottom yourself.  Thank goodness for craft stores!  They have made my life exponentially easier.
Here is what you need to make this Glass Block Turkey:
Small glass block, 5.5 inch x 5.5 inch
Brown glass enamel paint
Black acrylic paint
Patterned scrapbook paper in coordinating fall colors
Orange and red paper, or orange and red acrylic paints
wooden craft sticks (popsicle sticks)
White glue, such as Elmer's
Heat resistant glue, such as a two part epoxy
decoupage medium, such as Mod Podge
2 googly eyes
scissors
paint brush
A string of orange Halloween lights (50 light strand works well)
Here is how to make it thanks to Crafts for All Seasons -> Glass Block Turkey Tutorial
Don't forget your coupons as you head out to the craft store.