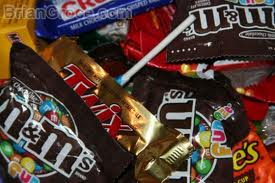 I think my kids ended up with more Halloween candy this year than they have any other year and I'm ready to get rid of it already!  No matter where we hide it, my five year old seems to be able to find it, and the results are not pretty!  Plus, I don't need the temptation, either!
Here are Six Ways to Use Leftover Halloween Candy: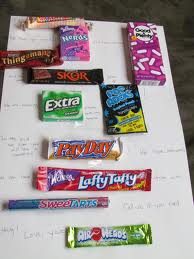 Write a candy bar letter:  If you've never put together a candy bar letter before, they are so fun!  Help your kids make one to thank their teacher or make one for a friend or neighbor to brighten their day!  Here are some tips for writing candy bar letters–> Candy Bar Letter Tips
Donate It:  Take your leftover candy to your local fire station or police station as a "thank you" to those who keep us safe every day!  I'm sure they'll appreciate it.
Sell It:  Find out if there is a dentist's office in your area participating in the Halloween Candy Buyback.  Your kids can "sell" their Halloween candy for free toothbrushes, coupons, and in some cases even cash and the candy will be donated to the troops!  Find a participating location in your area here–> Halloween Candy Buyback
Take it To Work:  If you work, take your leftover candy to work and leave it in the break room. I  bet it won't last long!
Bake With It!  There are lots of great recipes that will help you use up your leftover Halloween candy.  These are two recipes that I pinned on Pinterest sound AMAZING!
Peanut Butter Fudge Brownie Trifle
Save it for Goodie Bags:  Do you have a birthday party or other celebration coming up in the next few weeks?  Save your leftover Halloween candy and use it to fill goodie bags!
What do you do with your leftover Halloween candy?  I'd love to hear your ideas!  Did you find these ideas helpful?  Don't forget to pin this post if you did!