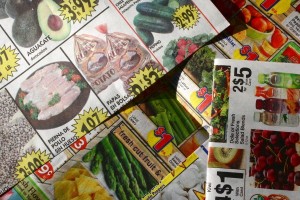 For the next few weeks, I'll be featuring a few posts each week as a part of a series called "Couponing A to Z" which will hopefully give you tips to get started with couponing!
Today, we're starting with the letter "A" and we'll be talking about the ads. I have to admit that getting the grocery ads on Tuesdays and Wednesdays is sometimes a "high" for me and leaves me thinking "So many deals, so little time."
Here are some tips for getting the most out of your grocery ads:
1.  Look for the "loss leaders" – A loss leader is basically an item that the store is willing to take a loss on by marking the price down in an effort to draw more business to their store.  Their hope is that once you're "in" to buy that item, you'll buy other items, too, and they'll come out ahead in the end.  The loss leaders are typically located on the first and last page of your ad.  If you can have coupons to match up with these items, it means that it's time to stock up!
2.  Mix & Match Sales – Mix and match sales usually carry a tag that says "10/$10" or "5/$5" and many shoppers mistakenly assume that you have to purchase five or ten items to get those price.  The reality is that, in most cases, even if you buy just one item, you'll still only pay $1.  Keep in mind that some stores require some sort of store loyalty card in order to get the sale prices.  If there is a mix & match sale, you can also buy a mixture of items – you don't need to buy 10 of the same item.
3.  Mega sales – When a store has a mega sale, it typically means that you will receive a deduction instantly if you buy a set amount of items (for example, buy 10 participating items, get an instant $5 off).  Check the fine print in the ad to make sure that you understand how the sale works.  A few things to look for:  Can you do the promotion more than one time per transaction?  Can you buy a combination of items to get the promotional discount?  Do you need a customer loyalty card to take advantage of the discount?  When you are purchasing items in the store, make sure that you are buying the correct items and make sure you check your receipt to ensure that the discounts were applied.  If you didn't buy enough items to get the promotional discount or you purchased the wrong item, take your receipt to customer service.  They will usually allow you to make the exchange or buy the additional items to take advantage of the sale.
4.  Buy One, Get One Free – Buy one, get one free sales can be a good time to stock up on items, especially if you can use coupons in addition to the sale!  Some stores will allow you to use a Buy One, Get One free manufacturer's coupon in combination with a BOGO free store promotion to get two items for free.  Some stores will also let you use two "dollar off" coupons (one for each item) with a BOGO free sale.  Even if you can only use one coupon, it's still a great way to save money in most cases.  It's always good to have a feel for pricing because at times, they will raise the price of items so the BOGO free prices really aren't that great of a deal.
5.  Raincheck – Remember, if your store is sold out of items, it never hurts to ask for a raincheck!  I usually cut out the item from the ad, write the ad date on it with a marker, and attach it to the raincheck.
6.  Price match – If your store is sold out of items, you can also go to Target or Walmart to price match the items!
Do you have any other tips for making the most of your grocery ads?
*This post may contain affiliate links. Please refer to my disclosure policy for more information.