If you're headed to a restaurant this weekend and you don't want to bust your budget, check out the top printable restaurant deals and coupons that are available right now!
Here are some top picks:

If you love Chili's, get yourself some chips and queso or maybe some dessert and get PAID to do it!  Get a free $10 gift card of choice with ANY Chili's purchase!  This offer ends  Saturday (8/31)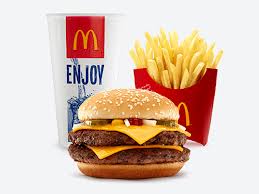 You can also get a FREE $10 gift card with ANY McDonald's purchase!  Buy a cone for $.50 or a drink for $1!
This is available for new Plink customers only and you must register using the specific promotion link above.  I have been using Plink for two months now and I've already earned 2 $10 Amazon gift cards!
Here are even more coupons:
Applebee's – Free Kids Meal WYB Any Adult Entree (exp: 9/30/2013)
Buca di Beppo $15 off coupon
BJs – Half Off Large Signature Deep Dish or Shareable Hand-Tossed Pizza (exp: 9/2/2013)
California Pizza Kitchen – $10 Off $40 When You Try Any New Hand-Tossed Pizza (exp: 9/8/2013)
Carvel Ice Cream – Buy 1 Get 1 Free Classic Sundae (exp: 10/15/2013)
Chevy's – $10 Off $30 or $15 Off $55 Purchase (exp: 9/15/2013)
Corner Bakery – Free Hand Pie or Bakery Sweet WYB Lunch or Dinner (exp: 9/12/2013)
Free Chipotle Beef Taco with Beverage Purchase
2 FREE Grilled Chicken Tacos when you Join  Fan Club
FREE Egg & Cheese Burrito with beverage purchase
Donut Connection – (exp: 12/31/2013)
Buy a Dozen get a Dozen Honeydip for $2.99
free small coffee with any breakfast sandwich
get 2 donuts free with jumbo coffee
$1 off Dozen Donuts or 50 donut holes
get a jumbo coffee for the price of a medium
$.99 any muffin
$.99 bagel and cream cheese with the Purchase of a Large or Jumbo Coffee
$1.50 off any dozen donuts
$.99 medium hot chocolate
buy a pound of coffee, get a free to go coffee
2 lbs coffee for $14.99
free small coffee with purchase of half dozen
$.99 for Egg & Cheese Breakfast Sandwich with Purchase of Large or Jumbo Coffee
$3.99 for 6 Donuts (limit 1)
$3.99 for 6 Donuts 3pm til Close
Free Large Coffee with Purchase of Any Regular Priced Breakfast Sandwich
Einstein Bros Bagels – $3 Off Dozen Bucket (exp: 9/10/2013)
Friendly's Ice Cream – 25% off Purchase (exp: 9/3/2013)
$4 Off Regularly Priced Jumbo Pizza (exp: 12/31/2013)
Buy 1 Regulary Priced Large Specialty Pizza Get Medium 1-Topping Pizza Free (exp: 12/31/2013)
Hardees – $1 Off Texas Toast Breakfast Sandwich Combo (exp: 9/8/2013)
Logan's Roadhouse – $3 off $10 or More in Food and $5 off $20 or More in Food Purchases (exp: 9/5/2013)
Lone Star Steakhouse – Buy 1 Entree Get 1 Free Starting 8/30 (exp: 9/2/2013)
Macaroni Grill – Buy 1 Get 1 Free Entree (exp: 9/2/2013)
Ninety Nine Restaurant – $5 off $25 in Purchases (exp: 9/8/2013)
Outback Steakhouse – $8.00/2 Entrees (exp: 9/5/2013)
Papa John's – 50% Off Any Large Pizza (exp: 9/1/2013) – use online code PLAY50
Quiznos Subs – 2 Combo Meals for $11.99 (exp: 9/3/2013)
Red Lobster – Free Appetizer or Dessert WYB 2 Entrees (exp: 9/11/2013)
Rubios – Free Fire Roasted Corn Guacamole & Chips WYB Sangria (exp: 10/20/2013)
Smashburger Restaurant – Buy One Get One FREE Entree (exp: 9/5/2013)
Souper Salad  – $4.99 Adult Buffet (exp: 9/3/2013)
Souplantation & Sweet Tomatoes (exp: 9/4/2013)
$24.99 Family Dinner
Buy One Get One $1  with purchase of 2 beverages
$8.99 dinner
$7.39 lunch (beverage not included
Starbucks – Buy 1 Get 1 Free Frappuccinos** (exp: 9/3/2013)
Villa Fresh Italian Kitchen – FREE Medium Drink with Any Purchase (exp: 9/30/2013)
Waffle House – FREE Waffle (exp: 9/8/2013)
Yogurtland – FREE 5 oz. Yogurt (exp: 9/1/2013)
See more printable coupons including retail coupons and restaurant coupons here–> Printable coupons
See more freebies here–> Freebies
See more restaurant deals here–> Restaurant deals
(Thanks Surviving the Stores and Smart Couponing)