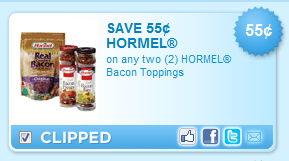 There is a new printable coupon for $.55/2 Hormel Bacon toppings. I know that lots of people like to use bacon bits on baked potatoes or salads, but I actually use them a lot in recipes that call for bacon because it's a HUGE time saver!
Print this Hormel coupon here–>$.55/2 Hormel Bacon toppings coupon
Here's a great recipe to try out using these bacon bits. My family loves it!
Monterey Chicken – This recipe is so yummy and it's so easy to make, too!
Ingredients:
4 (5 oz.) Boneless Skinless Chicken Breasts1/4 Cup Barbecue Sauce
1/4 Cup Hormel Real Bacon Bits
1 Cup 2% Colby and Monterey Jack Shredded Cheese*
1 (14 oz.) Can Diced Tomatoes with Green Chilies, drained (I'm just going to use regular diced tomatoes)
Sliced Green Onions
Pepper
Preheat oven to 400 degrees. Pound out the chicken breasts to flatten. Season each with a little pepper. Cook the chicken in a skillet sprayed with non-stick cooking spray over medium-low heat until no longer pink.
Place each breast onto a baking sheet and top each breast with 1 tablespoon of barbeque sauce, 1/4 cup cheese, 1/4 cup tomatoes, green onions and 1 tablespoon of bacon bits. Place into the oven and bake until the cheese has melted (about 5 minutes).
Per Serving: 263 Calories; 8g Fat (29.0% calories from fat); 39g Protein; 6g Carbohydrate; 1g Dietary Fiber; 108mg Cholesterol; 840mg Sodium. Exchanges: 4 1/2 Lean Meat; 0 Other Carbohydrates.
WW points = 6 points per serving