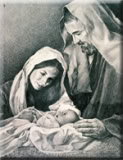 MERRY CHRISTMAS!  This is my favorite holiday and it always seems like it's over way too fast.  I love that during this season people are so focused on reaching out and helping others, and I'm always sad to see it end.  I will be spending the day enjoying my family today, but I wanted to take a minute to wish each of you a Merry Christmas and to tell you THANK YOU for being amazing readers!
If you need last minute gift ideas, make sure you check out this post here–> Last minute gift ideas
If you're wondering when stores open tomorrow so that you can take advantage of the after Christmas sales, check this out–> 2015 After Christmas Store Opening times
ENJOY YOUR DAY!