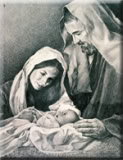 MERRY CHRISTMAS! Christmas is one of my favorite holidays!  I love the general good where people are focused on helping and doing for others.  I love the time spent with family and friends!  I'm also grateful for the opportunity to reflect on the birth of Jesus Christ.  I will be taking the day off today to spend with my family, but wanted to take a minute to wish you a Merry Christmas!  I'll be back tomorrow with the scoop on all of the after Christmas sales!  Enjoy your day!
In the meantime, if you need last minute gift ideas, here are a few:
If you're wondering what time stores open tomorrow, check out this post–> Day After Christmas Store Opening Times
MERRY CHRISTMAS!