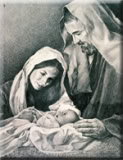 Good morning and Merry Christmas!  This is the one and only post you will see from me today.  I'm taking the day off to spend with my family and to focus on the CHRIST in Christmas.  I hope you all will do the same and enjoy the day with family and friends!
If I've learned anything through eight years of being a "bargain hunter" it's that there will always be another deal!  I will be back bright and early tomorrow morning to give you guys all of the scoop on the after Christmas sales!
Thank you all for reading.  I'm looking forward to more great deals in the upcoming year!