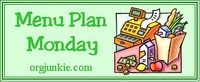 The plan listed here just includes our dinner menu and recipes. I have calculated Weight Watchers points values using the e-tools Recipe Builder, and points values this week are based on the new Points Plus program!
If you've been reading my blog for awhile, then you know that for the past two years, I have done a $40 weekly budget. With the changes to our eating habits, I'm going to increase our budget to $50 per week, and I'm really going to try to stick to that, but I'm not even sure that will be enough. This will be a trial and error experience, so stay tuned!
If you're new to menu planning or would like tips for getting started, check out this post here.
MONDAY: Crockpot chicken and rice
Ingredients:
2-3 frozen chicken breasts
1 pkg McCormick Zesty Herb chicken seasoning blend (sometimes I substitute the Good Seasonings Italian dressing blend if I have it on hand)
1 can cream of chicken soup
2 c. hot cooked rice
Grated cheese
Tomatoes
Celery
Bell peppers
Place frozen chicken breasts in the bottom of the crockpot. Mix ingredients for McCormick seasoning according to directions on the packet and pour over the top of chicken. Cook on low for five hours. Shred chicken in crock pot using a knife and fork. Add cream of chicken soup. Let cook for one more hour. Service over rice with additional toppings as desired (we add cheese, celery, tomatoes, bell peppers, etc. depending on what we have on hand).
TUESDAY: Melt in your mouth meatloaf (slow cooker) – I've made this several times now for our family.  It's easy to make and yummy!
Ingredients:
2 eggs
3/4 c. milk (we use skim)
2/3 c. seasoned bread crumbs
2 tsp dried, minced onion
1 tsp salt
1/2 tsp rubbed sage
1 1/2 pounds ground beef (we always make this with ground turkey instead and it's yummy!)
1/4 c. ketchup
2 T brown sugar
1 tsp ground mustard
1/2 tsp Worcestershire sauce
Directions
1. In a large bowl, combine the first six ingredients. Crumble beef over mixture and mix well (mixture will be moist.) Shape into a round loaf; place in a 5-qt. slow cooker. Cover and cook on low for 5-6 hours or until a meat thermometer reads 160 degrees F.
2. In a small bowl, whisk the ketchup, brown sugar, mustard and Worcestershire sauce. Spoon over the meat loaf. Cook 15 minutes longer or until heated through. Let stand for 10-15 minutes before cutting.
WW points = 5 per serving with the ground turkey, ground beef may be more (makes 6 servings)
Sides – Sour cream mashed potatoes (4 pts) and green beans (0 pts)
WEDNESDAY: Swiss chicken – I found this recipe on "Mommy Meals" and it looked kid friendly, so I decided to try it out
Ingredients:
4 – large boneless, skinless chicken breasts
4 – tablespoons (1/2 stick) butter, melted (I'm going to cut this)
8 – slices Swiss cheese
1 – 10 3/4-oz can condensed cream of chicken soup (I will use 98% FF)
1/4 – cup white wine (I will substitute chicken broth)
1/4 – cup sour cream ( will use reduced fat)
1 Tbs. of olive oil
10 oz. fresh cut mushrooms
1 1/2 – cups Pepperidge farm stuffing mix, crushed, I used savory cornbread
kosher salt and fresh black pepper, to taste
1.Preheat the oven to 350 degrees F.
2. Season Chicken to taste
3. In a large frying pan with a tablespoon of olive oil brown chicken(about 2-3 minutes per side). Meanwhile in a medium bowl, add the soup, sour cream and the wine.
4. Add the chicken to a shallow baking dish that has been spared with non stick spray.
5. Then in the frying pan cook mushrooms until golden brown. Layer the mushroom over the
6. Top chicken with cheese slices.
7. Pour soup mix over the cheese.
8. Sprinkle stuffing mix on top and drizzle with melted butter. Bake for 45 minutes. Remove from the oven and serve.
THURSDAY: On the go – we've got ballet, soccer practice, and a church function, so we'll grab something at some point in between
FRIDAY: Beef burgundy with biscuits – I saw this recipe on What's For Dinner and have been wanting to try it for awhile.  It sounds yummy!
Ingredients:
3/4 cup thinly sliced onions
1 clove garlic, finely chopped
1 pound lean beef stew meat, cut into 1-inch cubes
1 can (14.5 oz) diced tomatoes, undrained (I puree mine because Corey won't eat tomato chunks)
1 cup fresh mushrooms, sliced
1/3 cup red wine
1/4 teaspoon dried oregano leaves
1/4 teaspoon dried basil leaves
1 bay leaf
1 can (10.2 oz) Pillsbury Flaky layers refrigerated original or buttermilk biscuits
Directions:
1. In a large nonstick skillet, cook onions and garlic; simmer uncovered about 2 minutes, stirring occasionally. Remove with slotted spoon. Add beef to skillet; cook about 5 minutes or until browned. Stir in onions and garlic,  tomatoes, mushrooms, wine, oregano, basil and bay leaf. Cover; simmer about 25 minutes or until meat is tender. Remove bay leaf.
2. Heat oven to 375°F. Separate dough into 10 biscuits; cut each into quarters. Pour hot meat mixture into ungreased 2-quart casserole. Arrange dough wedges, point-side-down, on top of hot meat mixture.
3. Bake 20 to 25 minutes or until biscuits are golden brown.
Makes 6 servings.
SATURDAY: Baked chicken with parmesan and herbs
Ingredients:
4 skinless chicken breasts (I used 8 skinless thighs)
1 C. seasoned bread crumbs
2/3 c. Parmesan cheese
(I use freshly grated parmesan)
1/2 C. butter
1 tsp Dijon mustard
1 tsp. Worcestershire
1 tsp. minced garlic
Instructions
Preheat oven to 400 degrees. Combine bread crumbs, parmesan cheese, and salt. In a saucepan, melt butter & stir in mustard, Worcestershire and garlic. Remove from heat. Dip chicken in butter, then roll in bread crumb mixture. Place in shallow baking pan. Bake 1 hour or until golden