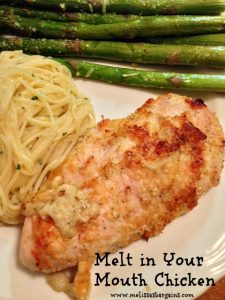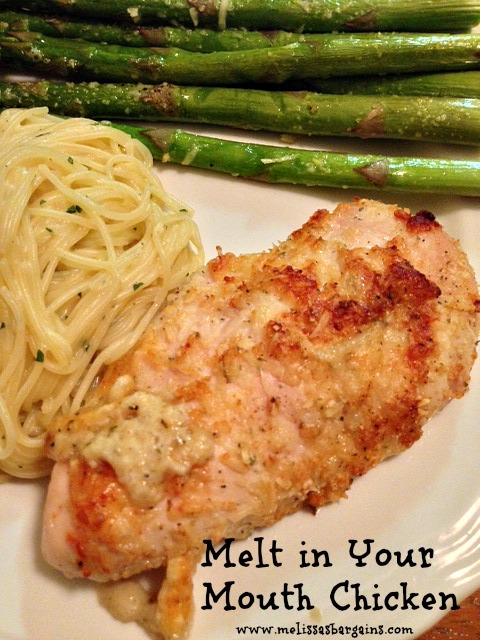 If you found this recipe on Pinterest, WELCOME!!!  I hope you'll check out my favorite recipes board there to see some other great recipes–> Melissa's Bargains Favorite Recipes on Pinterest
Here are a few of my favorites:
Now for the Melt in Your Mouth Chicken which is AMAZING!
I've seen a "Melt in Your Mouth Chicken" recipe pinned a number of times on Pinterest and I've had it on my "to try" list for awhile now.  I finally got around to trying it this weekend!  It was a hit with my two kids, who are not always the easiest to please, and also with my husband (who is sometimes harder to please than the kids!)
When it comes to cooking, I rarely follow a recipe point blank, and that was the case with this one, too!  You can find the recipe that inspired this here–> Melt in Your Mouth Chicken recipe
I served this with a side of Angel Hair pasta and Roasted Parmsan Asparagus.  Check out that recipe here–> Roasted Parmesan Asparagus
Melt in Your Mouth Chicken Recipe!
Author:
Melissa's Bargains
Prep time:
Cook time:
Total time:
Yummy, easy to make and kid-approved chicken recipe!
Ingredients
4 boneless, skinless chicken breasts
½ cup parmesan cheese (use the "real" stuff)
1 cup Greek Yogurt
1 tsp Garlic Powder
1 tsp Onion Powder
1 tsp Italian Seasoning
1 tsp Seasoning Salt
1 tsp Pepper
Instructions
Mix parmesan cheese, garlic powder, onion powder, Italian Seasoning, seasoning salt, and pepper together in a small mixing bowl.
Cover each chicken breast with the Greek Yogurt.
Roll and cover each chicken breast in the seasoning mixture.
Bake at 375 degrees for 45 minutes.
NOTE: Some people use a baking dish, but I used a cookie sheet and they turned out great!
See more recipes here–> Recipes