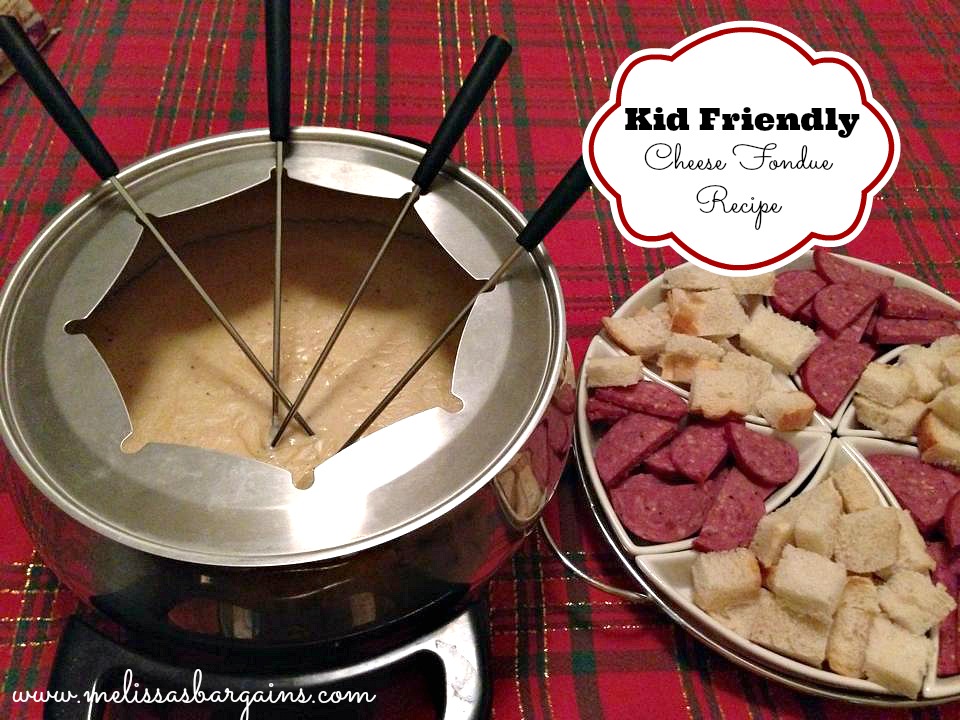 Early in my marriage, my husband and I received two fondue sets as a Christmas gift. It has not become a tradition for us to have cheese and chocolate fondue for New Year's Eve, Halloween, and sometimes Valentine's Day. I wanted to find a recipe that was kid friendly (meaning no alcohol) and that my kids could help with. This recipe is SUPER easy to make and we all love it, too!
If you're looking for a fondue pot, we have this one and it has held up well through the years: we've owned ours for 10 years now!
Cuisinart Electric Fondue Maker
Kid Friendly Cheese Fondue Recipe!
Author:
Melissa's Bargains
Prep time:
Cook time:
Total time:
Easy Kid Friendly Cheese Fondue Recipe with No Alcohol!
Ingredients
12 oz. Swiss cheese
4 T all-purpose flour
¼ tsp. paprika
¼ tsp. ground nutmeg
1 garlic clove
3 T butter
2¼ to 2½ cups milk (I use 2%)
Juice from a lemon
Salt and pepper to taste
Instructions
Grate the swiss cheese into a bowl (or buy pre-shredded). Add 1 T Flour, toss, and set aside.
In a separate small bowl, stir together the remaining flour, paprika and nutmeg.
Peel the garlic clove and rub it along the inside of a medium sauce pan (or used minced garlic).
Melt the butter in the pan over medium-low heat. Once the butter is completely melted, stir in the flour mixture until it is smooth.
Add the milk, 1 cup at a time, and stir constantly until the sauce is warm throughout.
Add the grated cheese by the handful, stirring well each time. Wait until cheese is well melted before adding the next handful.
Once the cheese has melted, stir in the lemon juice and salt and pepper to taste.
Serve with dippers such as bread cubes, beef stick, or vegetables.