If you're looking for ideas for Christmas morning breakfast, I've rounded up a few!  All of these are quick and easy and several can be prepared the night before!  Don't forget to pin this so you've got ideas for next year, too!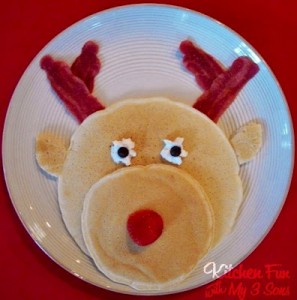 Rudolph Pancakes  – I've already got plans for Christmas morning, but I know that my kids will love this one, so I'm thinking about making it for breakfast on Christmas Eve instead!  All you need is Bisquick, bacon, whipping cream, chocolate chips (you could probably use blueberries, too), and a strawberry or raspberry for the nose!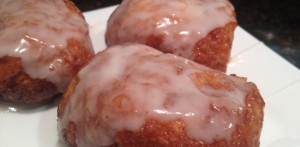 Crock Pot Cinnamon Rolls  – I've tried those crock pot breakfast casseroles and trust me, if that was your plan, skip it!  They have never turned out right for me!  How about some yummy Crock Pot Cinnamon rolls instead?  Get the recipe here–> Crock pot cinnamon rolls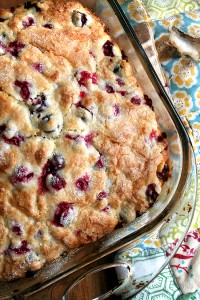 Cranberry Breakfast Cake – I've had this recipe pinned for awhile. It looks SOO yummy and I can't wait to try it!  The best part is that you can get everything ready the night before!  Get the recipe here–> Cranberry Breakfast Cake
Sausage Breakfast Casserole  – This has been my go to recipe for Christmas breakfasts for YEARS now, so I can assure you it's a tried and true recipe! I have also substituted ham for the sausage and added in other favorites like mushrooms.  You can also substitute diced potatoes or hashbrown potatoes for the bread.  Get the recipe here–> Sausage breakfast casserole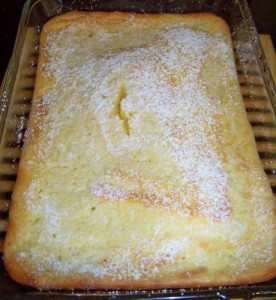 Puffed Pancakes – If you want something that is quick and easy to throw together on Christmas morning, try this recipe for puffed pancakes!  You can throw it in the oven and let it cook while you're opening presents that morning and add fruit, powdered sugar, syrup, or whatever other toppings you like that morning!  This one is a favorite with my family!  Get the recipe here–> Puffed pancakes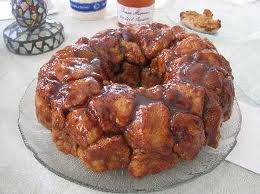 Monkey Bread – This is another family favorite and this is what I'm making for Christmas morning this year!  Get the recipe here–> Monkey Bread recipe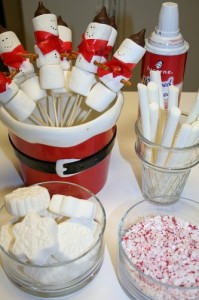 Hot Chocolate Bar – I'm also going to indulge my daughter, who has suddenly developed a "thing" for hot chocolate with a hot chocolate bar!  How can you go wrong with this one?
Let me know what your family is having for your Christmas breakfast!