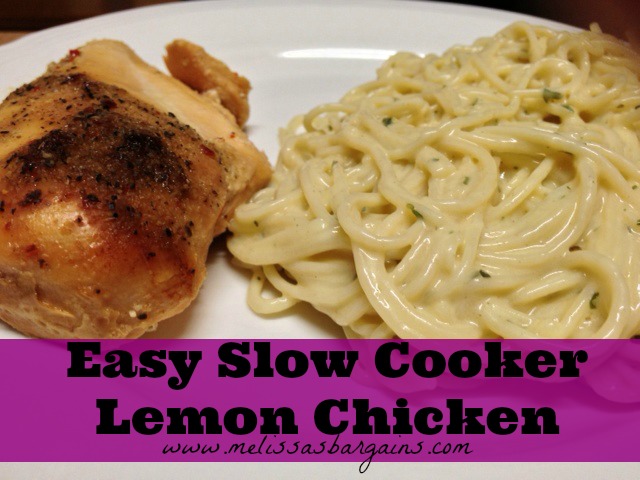 As I get ready to head back to work in a few weeks, I'm testing out new slow cooker recipes.  I'm all about simplicity because I don't usually have much time to do prep work in the mornings and in the evenings, I'm usually to tired.  This recipe is SO easy and is definitely a keeper for our family!  The chicken was very moist and had a lot of flavor (make sure you read my notes in the recipe below, though, if you're going to let it cook for longer)  I served this with pasta as a side and had also planned to add zucchini, but unfortunately I ended up spending 3 hours at a doctor's appointment and didn't have time to make it when I got home.
Make sure you also follow my favorite recipes board on Pinterest–> Melissa's Bargains Favorite Recipes on Pinterest
Easy Slow Cooker Lemon Chicken
Prep time:
Cook time:
Total time:
Easy slow cooker recipe – all you need is 3 ingredients!
Ingredients
3-4 boneless, skinless chicken breasts
1 package Italian dressing mix
Juice from 2 lemons (I used lemon juice instead of fresh lemons)
Instructions
Spray your slow cooker with nonstick cooking spray
Layer the chicken breasts along the bottom of the slow cooker
Sprinkle the Italian seasoning mix over the top
Add the juice from 2 lemons
Cook on low for 6-8 hours. Mine cooked for 6 hours and was perfect. If you are going to cook it for longer, you may want to add some chicken broth as well so the chicken doesn't dry out.
This recipe was inspired by a post on
Providence Design
.