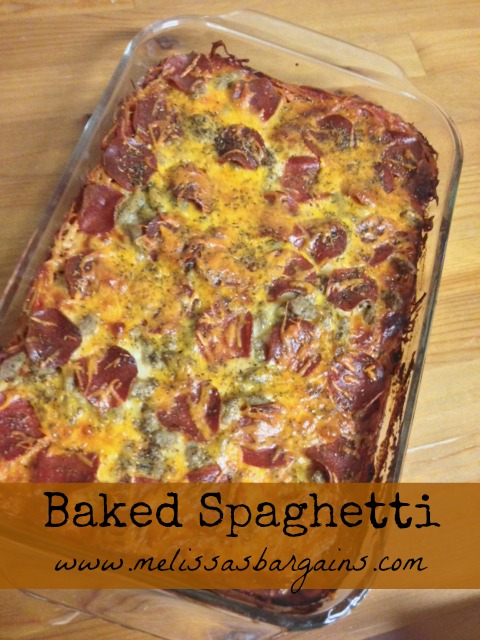 This was not on my menu plan this week, but it was inspired at the last minute due to some Pinterest browsing.  It was quick and easy to throw together and I had all of the ingredients on hand!  If you're looking for a budget friendly recipe, this is it!  If you had to buy the ingredients, you should be able to get everything for about $5-6!
This recipe takes me back a few years when my kids were younger and couldn't quite say "spaghetti" so it came out "pasketti"  This recipe is in fact a bit like "pasketti" because it's a combination of Pizza and Spaghetti baked!  We added the pizza toppings just for fun, but you could definitely just do it with the cheese and I'm sure it would be just as yummy.  If you saw my recipe for Bubble Crust Pizza last week, you may be thinking this is the same thing (I know that's what my kids thought when I pulled it out of the oven).  It's not quite the same, but it is completely kid friendly and my husband, who is sometimes pickier than the kids when it comes to trying new recipes, gave it two thumbs up and said it was a "keeper."  As an added bonus, we've got leftovers for lunch!
Baked Spaghetti Recipe
Prep time:
Cook time:
Total time:
Kid friendly and easy to prepared baked spaghetti recipe
Ingredients
1 package spaghetti noodles (we used whole wheat)
1 bottle pasta sauce (or you can prepare your own)
Pizza toppings (optional, we used sausage and turkey pepperoni)
Shredded cheese (pizza blend, Italian blend, mozzarella, etc.)
Italian seasoning
Instructions
Preheat oven to 375 degrees
Cook spaghetti noodles and rain
Spread spaghetti noodles across a 9X13 baking dish
Cover with the pasta sauce and mix together in the baking dish
Add shredded cheese and toppings
Sprinkle Italian seasoning over the top
Cover with foil and bake at 375 degrees for 30 minutes. Remove foil and bake for 10 more minutes
Let it sit for 5 minutes. I cut mine into squares with a knife before serving.
NOTE:  This recipe was inspired by Sarah Lynns Sweets