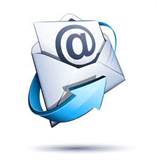 I post a lot of online deals and offers and many of those deals require an e-mail address.  I have had a few people express concerns about possible hacking, and so I wanted to address that.
1.  I check out every offer I post PERSONALLY before sharing!  My mom, siblings, and other personal friends and family members read this site.  I wouldn't want to send any of them to a site that was not legitimate, and I don't want to send any of you to those sites, either.  I honestly do check out every offer before sharing and that's also why I'm so diligent about links posted on my pages by others.  I don't want people to get scammed!
2.  Having an e-mail account just for "offers" is not a bad idea.  When I started doing surveys online a few years ago, my inbox was quickly over-run by e-mails and it was hard to keep up with e-mails from my friends and family members as a result.  I now have a separate e-mail account that I have set up just for special offers.  I personally recommend a Gmail account.
3.  Make sure your account is secure!  Whether you're using a new account for offers or your personal account, it's a good idea to make sure your account is secure.  Don't use the same password you use for all of your other accounts on your e-mail account.  Use something that will be hard to guess, such as a combination of random upper and lowercase letters, numbers ,and symbols.  The reason I suggested Gmail earlier is because they have 2 step verification.  If someone tries to access your account from a device that is not recognized, they will text you a verification code.  If it's not you, the person trying to access the account won't have that code and won't be able to get in!  Find out more about this here–> Gmail 2 step verification

4.  Consider getting a Google voice number  Oh how grateful I am for the person who introduced me to Google Voice!  It's completely FREE and you can great a "virtual" phone number when you don't want to give someone your "real" number.  They can even leave a message, which you can listen to through your Gmail account that is associated with your Google voice number!  Find out more about this here–> Google voice number
5.  TRUST YOUR INSTINCTS!  If you're not feeling good about an online number, check it out first.  A little Googling goes a LONG way!
*This post may contain affiliate links. Please refer to my disclosure policy for more information