If you're looking for a deal on checks, right now, you can get 2 boxes of personalized single checks for just $7.45 shipped!  You can get 2 boxes of duplicate checks for just $1 more!
Click here to grab this deal–> 4Checks.com: 2 boxes of personalized checks for $7.45 shipped 
1.  Choose a design (they've got over 800 to choose from!)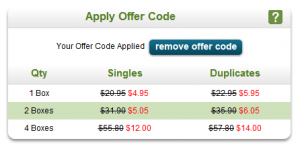 2.  In the box under the image of the checks, enter the offer code DB4335 and click on "update pricing."
You'll pay $5.05 for two boxes of single checks or $6.05 for two boxes of duplicate checks (I prefer the duplicates because I don't always remember to write things in the register!)

3.  At check-out, make sure the "NO" box is checked for EZShield Check Fraud Protection and choose USPS Bulk for free shipping.  You will have to pay a shipping and handling fee of $3.90, which brings your total to $8.95 for singles or $9.95 for duplicates.
UPDATE:  It gets BETTER!  When you go to check out, if a pop up comes up, click "Apply my Savings" and you will save $1.50 more, which brings your total to $7.45 for single or $8.45 for doubles!
Here's the breakdown of what your order looks like at check-out:  keep in mind that I chose duplicates (it will be $8.95 if you choose singles!)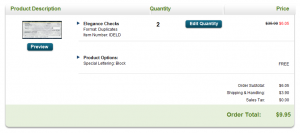 Your checks should arrive in 10-17 business days if you chose the free shipping option!  Mine actually arrived in a WEEK, but there are no guarantees on that!  Also, just a heads up that these come in a mylar envelope instead of a box like checks I've purchased from other places.  I thought they were junk mail and almost threw mine away!
*This post may contain affiliate links. Please refer to my disclosure policy for more information.