This post contains affiliate links. Please refer to my disclosure policy for more information.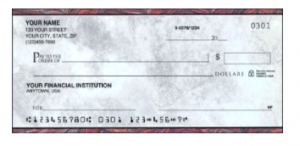 The start of the school year for me means that I end up writing lots and lots of checks.  If you're looking for a deal on checks, right now, here are two of the best deals I found:
Keep in mind that pricing varies depending on which design you choose!  Duplicates are also more expensive.
1.  Choose a design (they've got over 800 to choose from!)


2.  In the box under the image of the checks, enter one of the offer codes listed above and click on "Apply"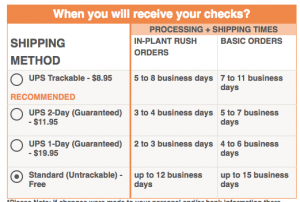 3.  At check-out, make sure the "NO" box is checked for EZShield Check Fraud Protection and choose Standard for free shipping.  You will have to select both of these options because it will default to more expensive options.
Here's the breakdown of what your order looks like at check-out:  keep in mind that I chose duplicates, which are more expensive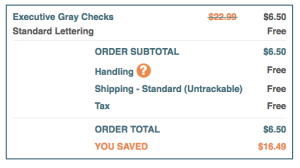 Your checks should arrive in 10-17 business days if you chose the free shipping option!  Mine actually arrived in a WEEK, but there are no guarantees on that!  Also, just a heads up that these come in a mylar envelope instead of a box like checks I've purchased from other places.  I thought they were junk mail and almost threw mine away!