In the past week, I have written TWELVE checks for various school things for my kids and I realized my supply is dangerously low.  My go to check deal is through 4checks.com, but since I've ordered through them previously, there weren't any stand out deals for me.  (If you haven't ordered from them before, you should totally check it out because you can get 2 boxes of personalized checks for $10.90 shipped–> 4Checks.com deal)  The next best deal I found was on Checks Unlimited.  You can get designer checks for just $6.99 shipped!  PLUS, when you order 2 boxes or 4 boxes, you'll get free address labels!
Click here to grab this deal–> Checks Unlimited deal
1.  Choose a design (they've got LOTS to choose from including Disney-themed checks!)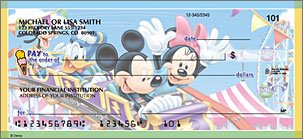 2.  In the box under the image of the checks, enter the offer code 355M and click on "Apply Offer Code."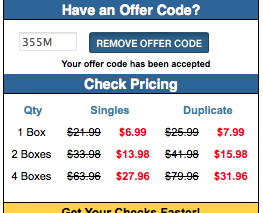 You'll pay $13.98 for two boxes of single checks or $15.98 for two boxes of duplicate checks (I prefer the duplicates because I don't always remember to write things in the register!)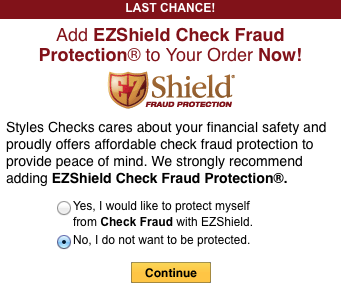 3.  At check-out, make sure the "NO" box is checked for EZShield Check Fraud Protection and choose USPS Bulk for free shipping.  Shipping and handling is FREE! NOTE:  If you make ANY changes to your order, you will need to check no again and there will also be another pop up box that comes up at before your final check-out.
Your free address labels will automatically be added at check-out: 

Your checks should arrive in 10-17 business days if you chose the free shipping option!  This offer is available to NEW customers only.
*This post contains affiliate links. Please refer to my disclosure policy for more information.