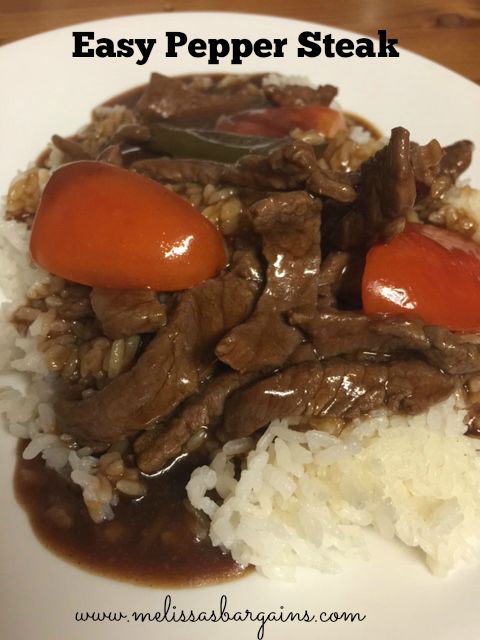 Lately, it seems like every time we go out to eat, I end up feeling disappointed and like I wasted my money.  We've really been enjoying creating some of our favorite recipes at home instead.  Shortly after I was married, my husband suggested that I contact his mom to get recipes for some of his favorite meals, and this recipe for pepper steak was one of the ones I requested.   It's definitely been a hit in our family and if you're looking for an easy pepper steak recipe this one is definitely it!  My 11 year old daughter has even been able to make it a few times now!
Easy Pepper Steak Recipe
Here's how to make it:
Pepper Steak Recipe
Author:
Melissa's Bargains
Prep time:
Cook time:
Total time:
Easy Pepper Steak recipe
Ingredients
3 cups hot cooked rice
1 lb lean beef round steak (cut into ½ inch thick strips)
1 T Paprika
2 T butter
2 cloves garlic, crushed
1½ c. beef broth
1 cup sliced green onions
2 green peppers, cut in strips
2T cornstarch
¼ c. water
¼ c. soy sauce
2 lg tomatoes (cut in eighths)
Instructions
Pound steak to ¼ inch thick. Cut into ¼ inch wide strips. Sprinkle meat with paprika. Let stand.
Brown meat in butter.
Add garlic, broth, onions, and green peppers.
Cover and simmer for 30 minutes.
Blend cornstarch, water and soy sauce. Stir into meat mixture. Cook, stirring until clear and thickened, about 2 minutes.
Add tomatoes and stir gently.
Serve over beds of fluffy rice.
If you enjoyed this recipe, here are a few others you might want to check out:
Get more menu planning inspiration here–> Menu Planning Monday