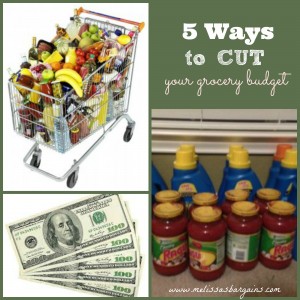 Every week, I get e-mails from people who need to cut their grocery budget – FAST!  I wish I had a super quick fix, but I don't.  Here are some things that have worked for me and I'm hoping they will work for you, too!
Five Ways to Cut Your Grocery Budget
1.  Start collecting coupons, and collect as many as you can for the items you use most! You can do this by buying multiple papers, trading coupons, asking neighbors, friends, and family to share their coupons they are not using, using a coupon clipping service, or … dumpster diving (I've never tried this personally, but I know there are lots of couponers out there who do)
Looking for more ways to find coupons?  Check out this post here–> Where to Find Coupons
2.  Check out the weekly ads and look for sales on items that you use regularly that have a long shelf life so that you can store them. The idea is that you don't want to pay full price for your favorite non-perishable items EVER!  When you do this, you may be spending a bit more money out of pocket initially, but this also means that you are not paying full price for these items later.  For example, a "stock up" price on canned vegetables for me is $.25-$.30 each.  The last time they were on sale for this price, I bought 40 cans.  I spent $12, but the regular retail price would have been $26.40.  I won't need to buy them again until there's another big sale.
3.  Start planning a weekly menu! Coupons have really helped us cut our budget, but I think that meal planning has been just as helpful.  Look at what you have "on hand" around your house and look at what's on sale in the weekly ads and plan your menu around that.  I always make our meal plan for the week before I do my big shopping trip for the week.  It's amazing how much money you can save when you have a plan for dinner, so you're not eating out and when you're actually using the food you have.
4.  Buy fruits and vegetables "in season." There typically aren't many coupons for fresh fruits and vegetables.  To help offset the cost of these items, I stock up on canned and frozen fruits and vegetables when there are great sales.  I also only buy what's on sale for the week (which is usually what's in season).
5.  Look for catalina offers to help pay for meat, dairy, and other items. On Your Next Purchase (OYNP) catalinas are typically store-specific coupons that can be used like cash toward your next purchase of any items (sometimes, there are exclusions).  Even though they sometimes say "manufacturer's coupon" at the top, they typically cannot be used at other stores (Note how the two coupon policies referenced above state that you can only use catalina coupons from other stores if they are for a specific product).  The Register Rewards you receive when you purchase specific qualifying items at Walgreens are typically OYNP catalinas.
Learn more about catalinas here–> What is a catalina coupon?
Want to learn more about coupons?  Check out my coupon basics posts here–> Coupon Basics