DISCLOSURE: I received a Blue Apron box with two meals for my family in return for my review. All thoughts are mine! Please refer to my disclosure policy for more information.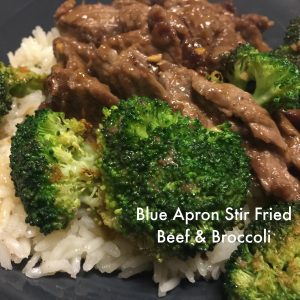 I have two "tweens" and all of their extracurricular activities makes getting dinner on the table every night (not to mention finding time to grocery shop, too) a bit challenging!  While I was waiting for my daughter's band concert to start a few weeks ago, I was talking about this challenge with a fellow mom and the discussion turned to meal delivery services.  I recently had the opportunity to check out Blue Apron and it was a hit with my family!  The best part is that Blue Apron is giving YOU the opportunity to try it and save $30 off your first Blue Apron box!
How Blue Apron Works 
Check out Blue Apron and customize options based on your family's needs:
2 person meal plan with 3 meals per week
Family plan with 2-4 recipes per week
You can even customize recipes based on your family's preferences:

I have picky eaters, so this was a HUGE plus with me!  We selected beef, poultry, and pork options for our family.

You have the option to view the available menu options for your delivery week and customize your choices.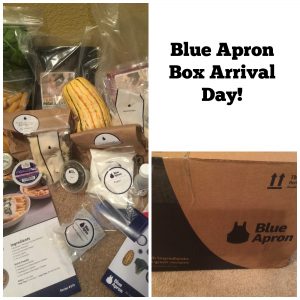 Your Blue Apron box will arrive with EVERYTHING you need to create your recipes!  The only things you need to have on hand at home are salt, pepper, and olive oil!  I love how every item was carefully packaged and labeled!  Your order will include farm sourced produce and meat from farmers and ranchers who raise animals without added hormones or sub-therapeutic antibiotics.    Your box is also carefully packaged to ensure freshness for the entire day!  Each box includes recipe cards with color pictures and easy to follow step by step instructions.
My Blue Apron Review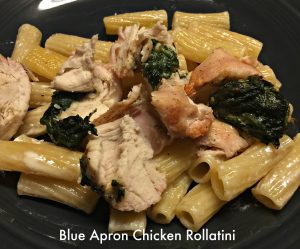 Full disclosure moment here.  Given the opportunity, my 9 year old in particular would happily survive on chicken nuggets, macaroni and cheese, and pizza.  He is the one who says "I don't like this" when I try a new recipe before he has even tried it.  I wasn't sure how he would react to these meals, especially the vegetables!
We tried the Blue Apron Chicken Rollatini recipe first because I figured it was "safest" (since my youngest avoids all things broccoli).  My kids absolutely loved this!  There was no arguing and we had zero leftovers.  My daughter asked when I could make it again and if we had to wait for another Blue Apron box to have it again.  I didn't have the heart to tell either one of them that the filling they were raving about was made from spinach!
My son loved the Chicken Rollatini so much that he decided to have an open mind when I made the Stir Fried Beef & Broccoli.  I cracked up when he said, "I can't believe I'm saying this, but I'm going to give this broccoli a try."  It made my night later when he said, "I guess broccoli isn't so bad after all."  My husband, who is a skeptic when it comes to things like this and my toughest food critic at times loved both meals, too!
What I loved about it:
I loved that it included everything I needed!  Have you ever wanted to try a new recipe and you realize in the midst of making it that you're missing that one ingredient?  Or, have you ever wanted to try a recipe and had to purchase a big bottle of some specialty sauce or seasoning even though you're not sure you will ever use it again?
I love that it gave me the opportunity to try out new recipes that are out of our norm and wouldn't normally be included in in our weekly menu plan!  I love beef and broccoli, but I usually don't make it for my family because I worry my kids won't eat it.  Now I know they will!
I love that the ingredients are all fresh and high quality! (and even better that I didn't have to go to the grocery store to get any of them)
It makes menu planning easy!
The meals are quick to prepare – each one took about 30 minutes!  I loved that we didn't resort to eating out at the last minute because I had nothing prepared and the cost is comparable to what you would spend eating out.
The portions were just right for our family!  The Chicken Rollatini was a huge hit and there wasn't anything left.  I actually was able to have leftovers of the Beef and Broccoli the next day for lunch.
Don't take my word for it!  Try it for yourself!  Remember you can get $30 off our first order when you click here–> Blue Apron Meal Delivery
Yes, you can cancel or skip a delivery at any time – there's no minimum time commitment!
There is a "freshness guarantee" and if anything is missing or not in acceptable cooking condition, they'll make it right if you notify them within 7 days.
You can give Blue Apron as a gift, too!  Details are on the site!
Let me know what meals you get and what you think!